All About Our Goldendoodle Puppies
First and foremost, we always raised with them with loads of love! The video below shows our Goldendoodle Puppies and how they came into this world and how happy Dixie is as a mom. This Goldendoodle puppy litter is from Dixie. Dixie was such a happy mom while she raised her puppies.  It is now a year later and we are celebrating their first year. If you are interested in getting one of our Goldendoodle puppies, find out what we do and how we pride ourselves on raising our puppies with love, kindness and our big hearts! We are family oriented and raise them in our homes, our living rooms, our bedrooms, never in cages or kennels. They are well socialized and ready for their forever home.

The video above shows more of our Goldendoodle Puppies too! This litter is from Tia. Tia is such a proud mom and took such great care raising her Goldendoodles. It is now a year later and we are celebrating their first year. Our dog owner clients love to share
how their dogs are doing and we love to hear about it.
Karla's Pet Rendezvous, was established for over 40 years, we are well respected as a reputable quality dog breeder of Doodles and Moyen Poodles.  We are so proud of all the happy homes we have found for our puppies across the country. To see what customers say about us, visit our customer reviews page here on Yelp: YELP CUSTOMER REVIEWS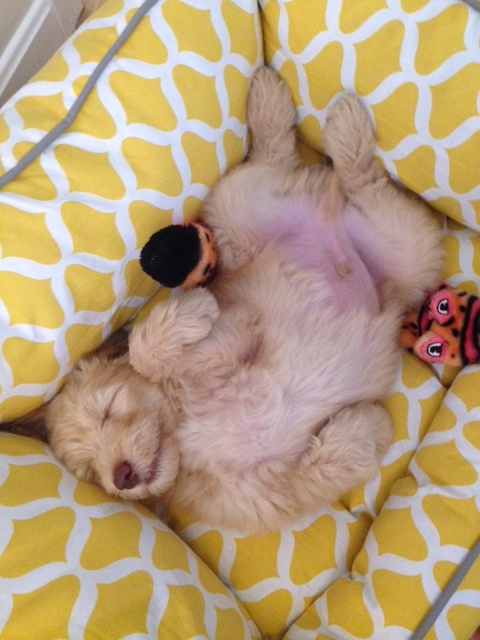 "Animals are my life!" says Karla Schwarz owner/operator of Karla's Pet Rendezvous in Conway, NH. Our Goldendoodle puppies and all of our puppies are raised by loving hands, born in our bedrooms, and raised in our homes with plenty of room to run! We take great pride in knowing that none of our Goldendoodle dogs will ever live in a kennel, nor will we allow anyone to own one of our goldendoodle puppies if they do not consider this beautiful breed as a full part of their family. Our goldendoodle puppies are Volhard Temperament Tested, Vaccinated, Health Guarantee, Parental Health Tested, Visits are always welcome! We enjoy showing you what we do and who we are and the love we feel for our dogs.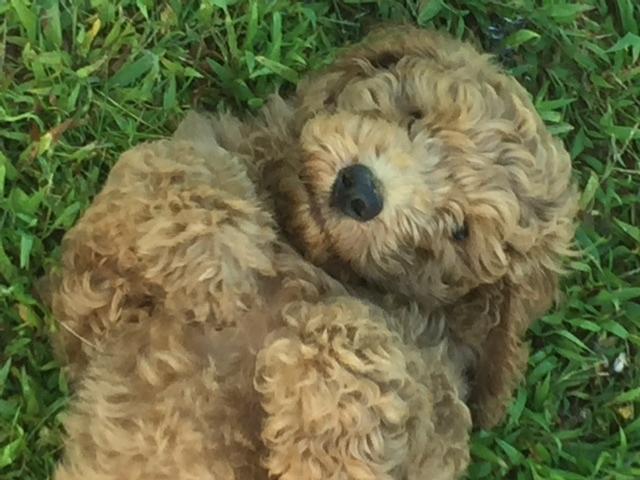 When you adopt with a Goldendoodle or any puppy with us, we support you 100% after the adoption. We provide a  4 hour exit seminar which involves educating you and how to create the best situation for you, your dog and your family. Our seminar includes Nutrition, Parental and Puppy Health, Training Crates, Treats, Toys, Grooming Education and Supplies.
We love sharing our knowledge with you! You will get to share with the other siblings as a group through online sharing of photos and tips. We stay with you for as long or short of a time that you need!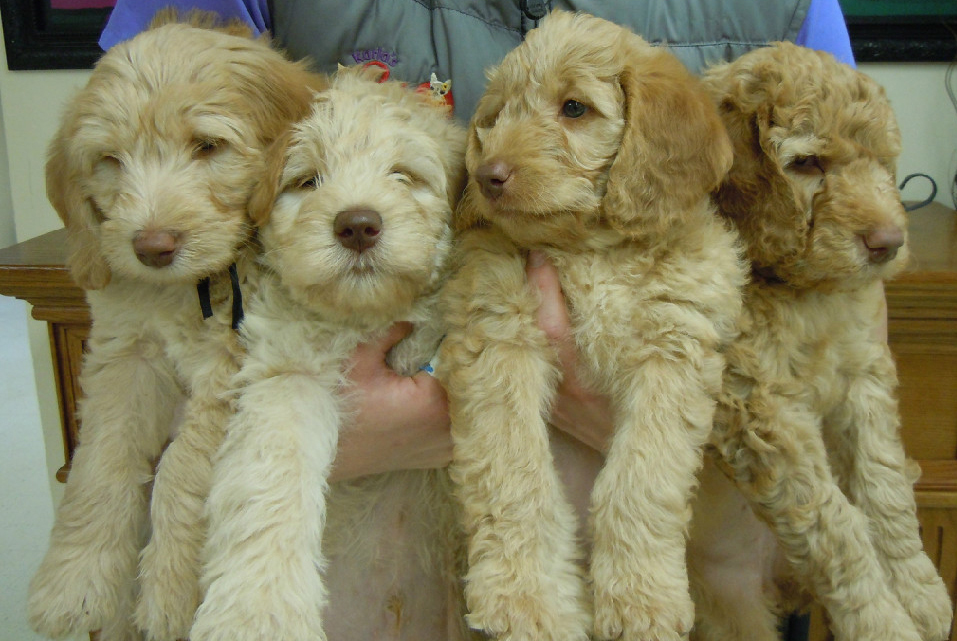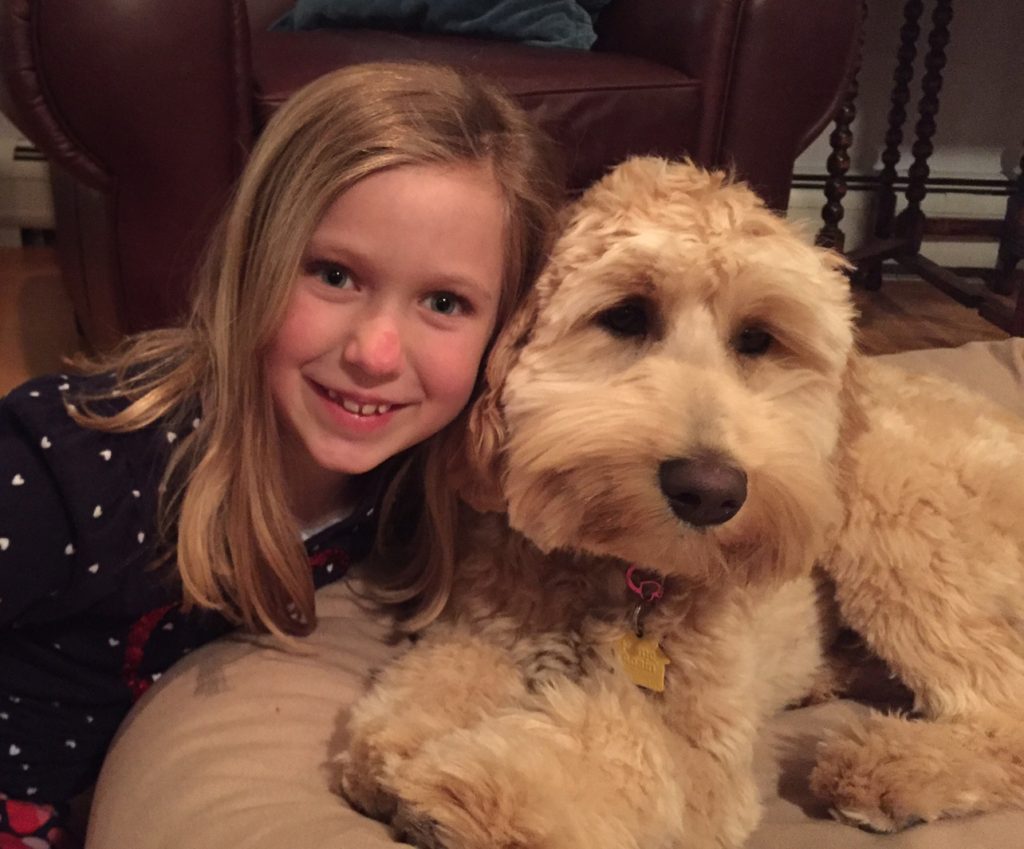 OUR DOG BREEDER COMMITMENT TO YOU!
All of our breeding Dog's live with lifelong loving families
None of our breeding Dog's live in a kennel, EVER!
We do parental health testing-beyond the "norm"
We test eyes, hips, heart & DNA according to breed specifications
We specialize in Moyen (medium) sized dogs 25-35lbs
We are "Natural breeders" and do not spay/neuter before it is healthy for them (7 mos) nor do we dock tails & remove dew claws- (which has been banned in Europe)
We believe in Holistic Veterinary care & nutrition &help you understand what that means.
We love warm colors, our dogs are mostly creamy apricot, gold, into reds
We feed our dogs the very best nutrition!
We educate families on everything!
We teach nutrition, training tips, grooming, important vaccine & health information and best supplies to go home with.
We offer everything you need at our "Exit Seminar"
All puppies have a "Spa bath" ears cleaned, genitals trimmed, nails trimmed…the day of their Exit Seminar
All puppies have health clearances, with excellent guarantee for any genetic disorders
We have no dogs with genetic disorders
We off "first puppy" vaccines, distemper, parvo & bordetella as well as negative fecal result (no parasites)
We have been caring for pets, and educating their "people" since 1978
Caring for Animals is what we do…with kindness & love!
We offer "lifelong" support group for all of our dogs- we stay with you!
We have broken the traditional "mold" where Breeding & Breeders are concerned
We do not breed a female without knowing we have families for the pups born
We have waiting lists for all of our litters
We are known nationally for the quality of our puppies & breeding program
Most of our puppy families are from "word of mouth" from families that meet families with our dogs.
Anyone ever unhappy with a dog of ours will come back to us- no questions asked for behavioral rehab & rehoming- (some families do not take the time to train properly, this is why so many dogs end up in shelters, this will never happen with one of our dogs!
We have meticulous breeding criteria- no dog is bred without completed & proper health credentials
Our dogs are not "hyper" but they ARE athletes! LIke all dogs, they need proper exercise and training to continue to be  healthy both physically and emotionally
Our puppies will make great agility dogs 
All dogs need strong leadership skills.  Iif you cannot say "no" to your children then we suggest that a Rendez-doodle or Moyen poodle is not for you.
Owners who are "in charge" in a soft natured way will always have success with a Rendez- Doodle!
We recommend Invisible Fence (brand) for all of our new puppy owner Families

We recommend NuVet nutritional support for all of our new puppy owner families

We will help you find the best foods on the market, and a great nutritional program that will have you seeing the vet (ONLY) once a year for "well care" -ear & skins problems can be caused by improper nutrition!
Did you know? You cannot get a great dog food at the grocery store, we will guide and educate you on what's best for your new puppy. We will help you "rate" different foods in order to find the best every time
We recommend that you rotate protein sources, this prevents your puppy from developing food sensitivities later in life. We suggest you get a different one every bag, red meat, chix, fish, etc…and FEED RAW when you can- we feed raw meat every day because this is a dogs natural diet! There are beneficial enzymes in raw food that you cannot get elsewhere!
We recommend you give your puppy probiotics for the rest of their lives for strong digestive tract & immune support
There is no question we will not help you, if you have a Rendez-doodle or Moyen poodle from us!
UPCOMING LITTERS
of GOLDENDOODLES 
To begin the adoption process, and get on our waiting list,
click on our Adoption Process here: ADOPTION PROCESS
We look forward to this year's litter of Goldendoodles!
Please visit UPCOMING LITTERS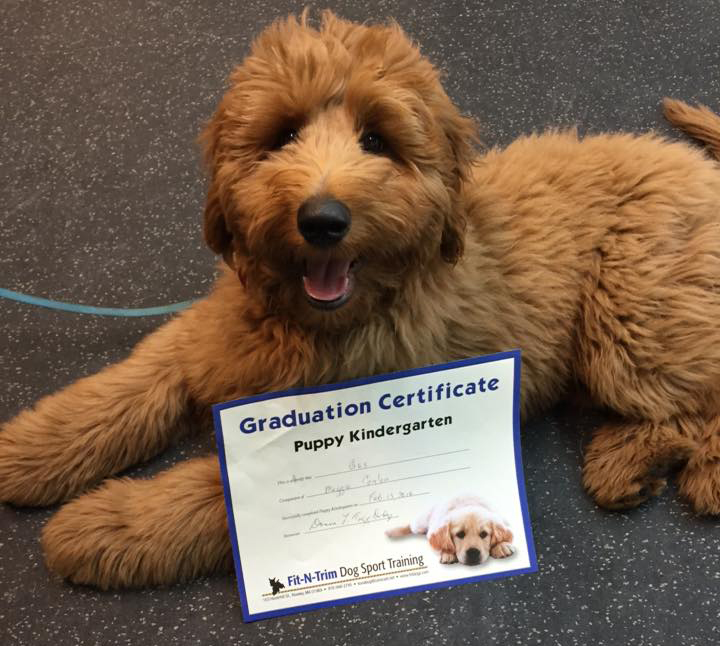 Would you like to reserve a puppy?
To adopt a Doodle or Moyen Poodle Puppy with us, please fill out our easy online Puppy application here: PUPPY ADOPTION APPLICATION
To see pictures of recent puppies on Facebook click here
The process, if you are interested in one of these puppies and have questions, please feel free to contact me at: 207-653-3321.
Please fill out our online puppy application, by clicking here:
Learn all about our Doodles and Moyen Poodles, on our
RENDEZ-DOODLES PAGE, CLICK HERE: Rendez-doodles.
When I have received your application I will call you and we will go over it together. If you are approved, you will be placed on the "pick" list according to the order in which your deposit was received.  We will provide you with a thorough and complete ZOOM educational seminar done by myself and my trainer "Wendy".
To see Wendy's credentials: click here: Wendy's Credentials
Wendy is in the New England area, she will  answering all questions related to, but not limited to housebreaking, crate training, chewing, training class schedule and much more.
Whereas, I (Karla) will go over all the "Grandma" issues (I will always be Grandma:-) I will have all supplies needed to take your puppy home, and will discuss nutrition, best foods & supplements, books, chew toys, crates, grooming supplies, and much more. Temperament testing is done by Wendy on day 49 of the pups new life (7 weeks, New England pups only) this will help us, help you, choose the best puppy for your family, you are welcome to visit after 4 weeks, to choose your pup. You will meet the Dog Parents, although Clyde lives in another state, but we will provide you with Clyde's history as requested (and Australian pedigree) These pups are not for breeding and will have to be spayed/neutered, unless we discuss, your experience & breeding plans, and a dog for breeding will cost $4000-$6000 & will not be living in a kennel under any circumstances, and have to go through all the same testing these parents have.

This a family going home with their doodle puppy! After our Exit Seminar with everything they need!

After you take your puppy home we will all share e-mail addresses, and continue with an online "puppy support group" (Florida resident will rely on this more than New England) you may use this puppy share and support list as much or as little as you choose. Most new puppy owners find it helpful during those first few sleepless nights. In the weeks, months and years to come, as questions arise, Wendy and I will "hold your hands" as long as necessary.

It is our sole purpose to help you with your newly adopted puppy and to make your life with them the best possible for your entire family. There is no added charge for this support from us.

Like us on Facebook:
Click here for Facebook. 

This is what your golden doodle puppy will look like

Our Puppy Moms and Dads are registered,with AKC (Stud poodles) & CKC, with health certificate, and included are parental eye, orthopedic, skin & DNA Certifications. Temperament testing performed by authorized trainer at 49 days. Puppies are raised at home, and well socialized by loving hands, until 8 weeks old. Will be first come first serve. We require full application, only serious inquiries please. 

Price does not include shipping. Deposit required to hold a pup, families choose puppies according to order in which deposits are received, in accordance with application & temperament testing results.

To see photos of our dads click here: OUR PUPPY DADS
To see photos of our moms, click here: OUR PUPPY MOMS

 We have more than just Goldendoodle Puppies! Visit us in our home and we'll show you how we raise our Doodles and Moyen Poodles are always welcome! To set up an appointmentto view our litters, contact me below:

Call Karla at: 207-653-3321
E-mail Karla at: rendezdoodles@karlaspets.com