These girls all have loving families that are their forever homes. These girls LOVED Motherhood, but have moved into retirement with those Families that love them!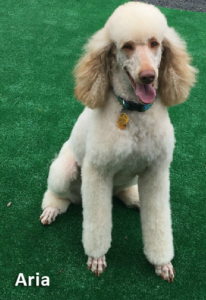 Meet Aria, one of our Puppy Moms  (retired)
(pictured above), this dog is our beautiful Moyen poodle mom, she weighs 40 lbs. she is apricot in color, a very smart dog, loyal and makes a very dedicated family pet. She is so incredibly sweet!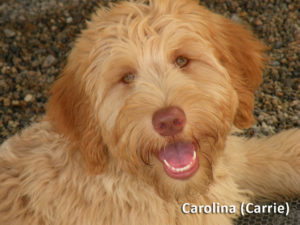 Meet Carolina, also known as Carrie,
one of our Puppy Moms (retired)
 (pictured above and below with Aria) This Goldendoodle dog is one of our our very sweet Goldendoodle moms. She is 40 lbs, her coat is apricot in color, she is our wonderfully sweet family dog that everyone adores! She makes wonderful doodle puppies.
Click here for Carrie's Health Records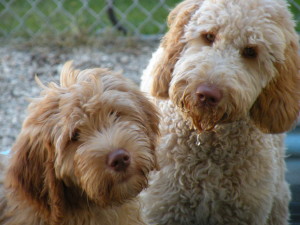 Carolina pictured again!  (above) We couldn't resist showing you this photo of her when she was a puppy, with Aria our Moyen poodle female (on the right in a "teddy bear trim"). Note that Aria in a teddy bear trim is the same dog as Aria again shown above, as the first photo on the page (these different photos show you how poodles look very different when trimmed in a "teddy bear vs a poodle trim").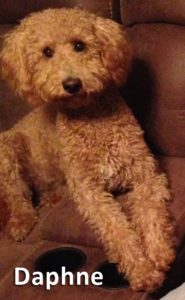 Meet Daphne, one of our Puppy Moms (retired)
(pictured above), this beautiful dog is an Australian labradoodle  Mom to be. She weighs 35 lbs as an adult, she has a great temperament and will produce multi-generational puppies
(Moyen in size).
Click here for Daphne's Health Records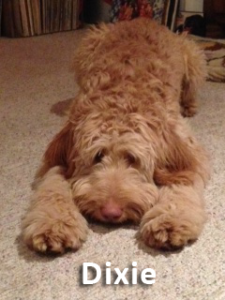 Meet Dixie, one of our Puppy Moms (retired)
(pictured above) This dog is a golden doodle mom, weighs 40 lbs, she is apricot in color. She has a wonderful sweet loving disposition and makes a great family dog. We love her so much! Here puppies have been so adorable.
Click here for Dixie's Health Records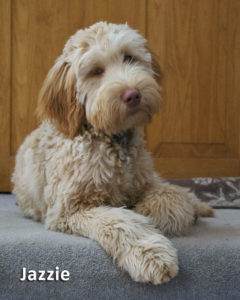 Meet Jazzie, one of our Puppy Moms (retired)
(pictured above), this dog is a warm loving labradoodle mom, she is a very good dog. she weighs 40 lbs, she is apricot in color, she absolutely loves her job as a Labradoodle momma and she's
very good at it!
Click here for Jazzie's Health Records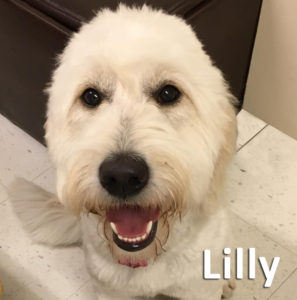 Meet Lilly, one of our Puppy Moms (retired)
(pictured above) This dog is a first generation golden doodle mom, weighs 50 lbs, and 20″ at withers, she is British creme in color. She has a fun loving, playful, smart and easy going golden doodle family pet. Her puppies will make a wonderful pet for your family. She is very well loved by all that meet her.
Click here for Lilly's Health Records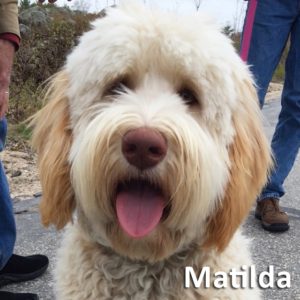 Meet Matilda, one of our Puppy Moms (retired)
(pictured above), this outstanding female Australian labradoodle is 44 lbs and 22″ at withers. She has a playful and loving personality and a very loyal family pet. She will produce multi-generational Australian Labradoodle puppies.
Click here for Matilda's Health Records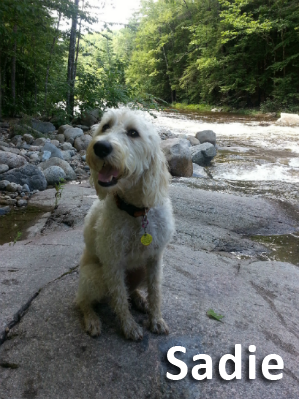 Meet Sadie, one of our Puppy Moms (retired)
(pictured above), this dog is a Labradoodle mom. She weighs 38 lbs, her coat color is apricot creme.  She has an excellent disposition and loves her puppies to the moon and back.
Click here for Sadie's Health Records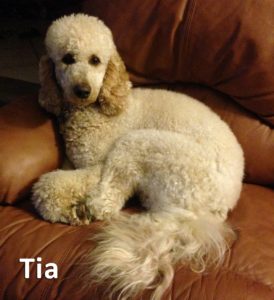 Meet Tia, one of our Puppy Moms (retired)
(pictured above), this dog is a Moyen poodle, she has black pigmentation and weighs 40 lbs, her coat is apricot in color. Tia is a very loyal, sweet and smart Moyen Poodle. Tia is being trained as a service dog. She is such a beautiful dog.
Click here for Tia's Health Records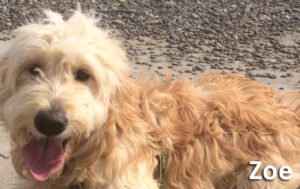 Meet Zoe, one of our Puppy Moms (retired)
(pictured above) This dog is a first generation golden doodle mom, weighs 50 lbs, and 22″ at withers, she is apricot in color. She is a wonderful family pet, very smart, loving and playful.
Her puppies will make a wonderful pet for your family. She has been a great family pet and we're sure her puppies will also be the same.
Click here for Zoe's Parental Health Records

For more information on adopting one of our puppies, click the button below: 

If you would like to read our customer reviews, they have helped us gain the reputation for being a quality goldendoodle and labradoodle breeder, click this button: