Our Dog Breeder Promise & Philosophy
We want you to know about our dog breeder promise and our philosophy in how we care and raise our beautiful Labradoodles, Goldendoodles, Australian goldendoodles AKA Double Doodles, Australian Labradoodles, Bernadoodles and Moyen Poodles. We have so much love in our hearts for these dogs and we value sharing with you the importance of raising healthy puppies.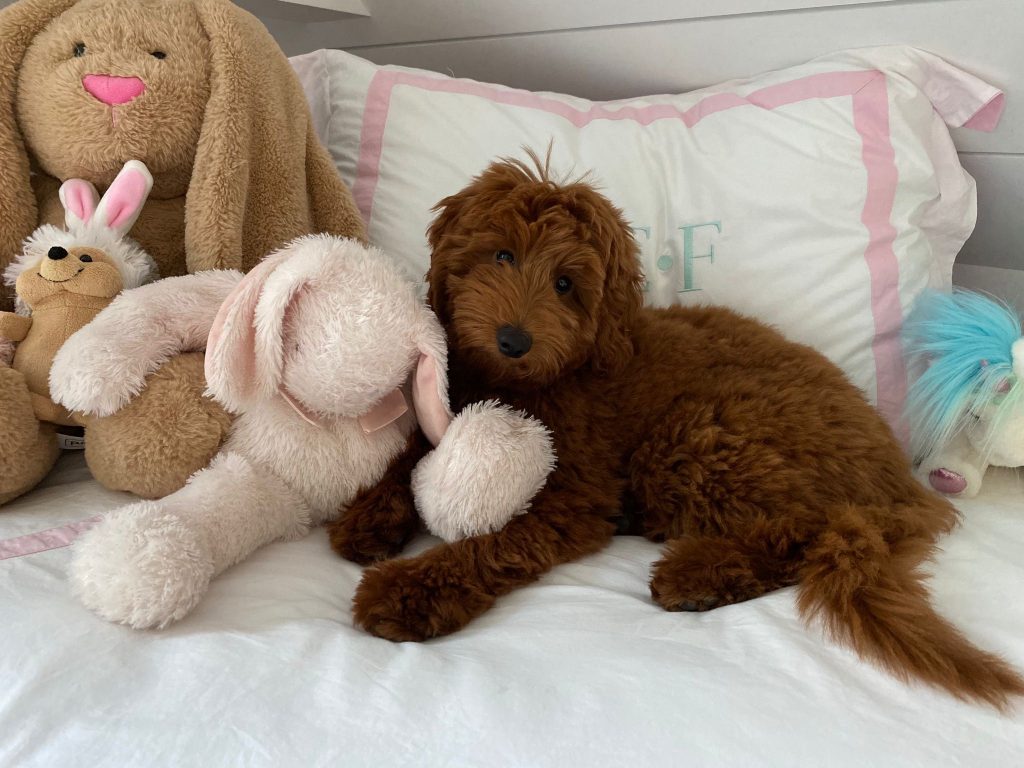 OUR DOG BREEDER PROMISE
None of our dogs or puppies live in kennels, EVER! (we are proud of this)

All of our breeding dogs live with lifelong loving families

We do parental health testing-beyond what is 

considered the norm

We test eyes, hips, heart and DNA according to breed specifications

We specialize in Moyen Poodles (medium) sized dogs 25-35lbs,




Goldendoodles, Labradoodles, Australian Labradoodles, Bernadoodles  and




Australian Goldendoodles AKA Doubledoodles

We are "Natural Dog Breeders" and do not spay/neuter before it is healthy for them (7 months) nor do we dock tails and remove dew claws.  (this has been banned in Europe)

We believe in Holistic Veterinary care and nutrition, we educate our customers on the value of understanding the importance of nutrition and how it affects their lives and health-

We love to play with coat colors, our dogs are mostly creamy apricot, gold, into reds-chocolate, phantom, tri and parti factored colors.

We feed our dogs the very best nutritional food as puppies and adults

We educate all families on everything they need to know

We guide you to best  nutrition, training tips, grooming, important vaccine and health information and show you the best supplies to

take home with you.

We are proud of our customer reviews and what they say about quality of our puppies and breeding program

We offer everything you need on "GOTCHA DAY"

All puppies have a "Spa bath", ears cleaned, genitals trimmed, nails trimmed on GOTCHA day.

All puppies parents have health clearances, with excellent guarantee for any genetic disorders

We have no dogs with genetic disorders

We give  "first puppy" vaccines, distemper, parvo and bordetella as well as negative fecal result (no parasites) Health Certificate

We have been caring for pets, and educating their "people" since 1978
OUR DOG BREEDER PROMISE & PHILOSOPHY
Caring for Animals is what we do, always with kindness




and love and nothing less!

We offer "lifelong" support group for all of our dogs, we will guide you and support you after adoption for the life of the dog.

We have broken the traditional "mold" where Breeding and Breeders are concerned, we really care and have such love for all our puppies, moms and dads.

We do not breed a female without knowing we have families for the puppies that will be born.

We want the opportunity to become your dog breeder.

We have waiting lists for all of our litters.

Most of our puppy families come from "word of mouth" from families that meet families with our dogs that we raised.

If anyone is ever unhappy with a dog of ours, we will take the dog back, no questions asked for behavioral rehabilitation and rehoming.  (some families do not take the time to properly train their dog, this is why so many dogs end up in shelters, this will never happen with one of our dogs)

We have been meticulous in our dog breeding criteria, no dog is bred without complete and proper health credentials

Our dogs are not "hyper" but they ARE TRUE ATHLETES! Our breed of dogs need proper exercise and training to continue to live healthy, both physically and emotionally.

Our puppies will make great therapy and agility dogs.

All dogs need strong leadership skills. If you cannot say "no" to your children it's probably best that you do not get one of our Doodle or Moyen Poodle puppies from us.

Owners who are "in charge" in a soft natured way will always have success with a Doodle!

We recommend Invisible Fence (brand) for all of our Families

We recommend NuVet nutritional support for all of our families

We will help you find the best foods on the market. A great nutritional program will help your visits to the vet (ONLY) once a year for "well care". Many dog owners do not realize that ear and skin problems can be caused by improper nutrition.

It's important you know that you cannot get quality dog food at the grocery store. We will help you "rate" different foods in order for you to find the best dog food every time.

We recommend you rotate protein sources in order for your pup to not develop food sensitivities later in life. We recommend you get a different one of every bag; red meat, chix, fish, etc. We also suggest FEED RAW . We feed raw meat every day because this is a natural diet. There are beneficial enzymes in raw food that you cannot get elsewhere.

We recommend you give your puppy probiotics for the rest of their lives for strong digestive tract and immune support.

There is no question we are always there for you when you purchase a Doodle or Moyen Poodle from us as your dog breeder.