Our Poodle, Goldendoodle, and Labradoodle Puppy Dads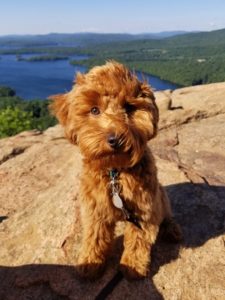 Cooper, our Mini Goldendoodle Dad!
Cooper is our mini Goldendoodle puppy Dad. He has a very sweet disposition and personality.
Cooper is outgoing and loving, and playful at the same time.  Cooper brings all these great characteristics to our wonderful breeding program.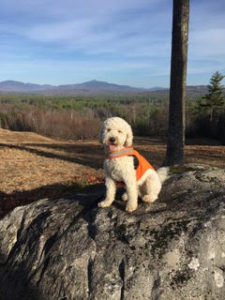 Jax, our Goldendoodle Dad!
Meet Jax! Our latest Goldendoodle dad weighing in at 30lbs- he is apricot creme, with a curly coat.
Jax is SUPER smart and loving…great family boy, and loves his people & everyone!
Jax's puppies are super-friendly and smart & loving.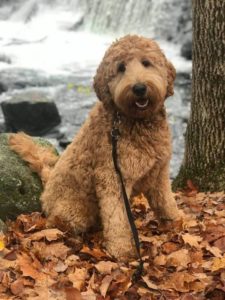 Abner, our Goldendoodle Dad!
Meet Abner! Our sweet, goofy, athletic, playful & "smart as a whip" Standard Goldendoodle Daddy! Abner weighs 50lbs and is apricot in color, and he has a wavy coat. 
Abner loves to be with his Momma at her restaurant & greet & eat-and is up for anything! Very friendly & loving and just an all-around good family member. Abner produces amazing pups!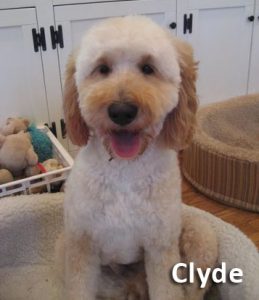 Clyde, our Australian Labradoodle Dad!
Meet Clyde, one of our Puppy Dads! He is a beautiful Australian Labradoodle stud and he comes from Australian bloodlines, Rutlands and Tegan Park.
Clyde weighs 35 lbs and has a wonderful disposition and throws beautiful puppies. He is curly & apricot creme.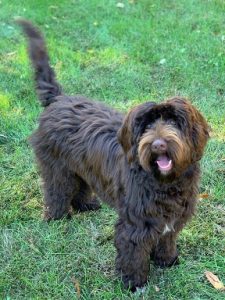 Marco, our Australian Labradoodle Dad!
Marco is one of our chocolate Australian Labradoodle studs. He is a very smart boy, and beautiful as you can see from this rich dark chocolate coat of his, to those stunning brown eyes.
Marco is athletic, playful, and a sweet, loyal pet. We love Marco's puppies!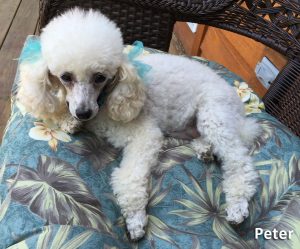 Peter, our Toy Poodle Dad!
Meet Peter, one of our Puppy Dads
This dog is a champion Toy Poodle stud. He is wonderful with kids and other small dogs, loves his family life and produces beautiful puppies.
Peter is super attentive to his family, and loves meeting new people & pets.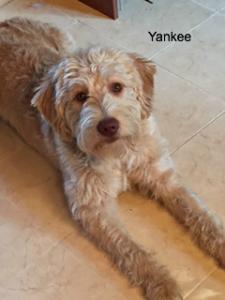 Yankee, our Labradoodle Dad!
Meet Yankee, one of our Puppy Dads
Yankee is very sweet-natured, loving, family-oriented, and well-behaved!
He loves to hike and swim and great going off lead to go the extra mile! Yankee Weighs 60 lbs and is an F1 (first-generation labradoodle).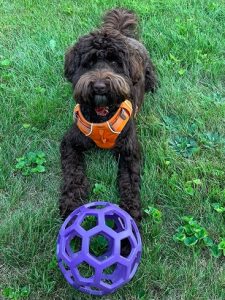 Hampton, our Australian Labradoodle Dad!
Hampton is such a good boy! He has had an exciting life, being raised in Florida while Grammie was there early on. He loves to be free & play ball, and hang out with Dad at his real estate office. He is chocolate and weighs approximately 30lbs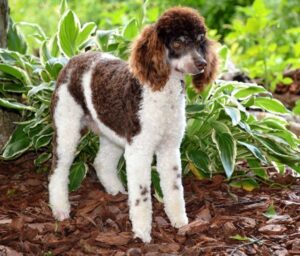 Sherlock, our Moyen Poodle Dad!
Sherlock is a fantastic Moyen Poodle that carries for parti, and phantom and "red on top" He is 21lbs- Has all of his health clearances including IVDD & CDDY