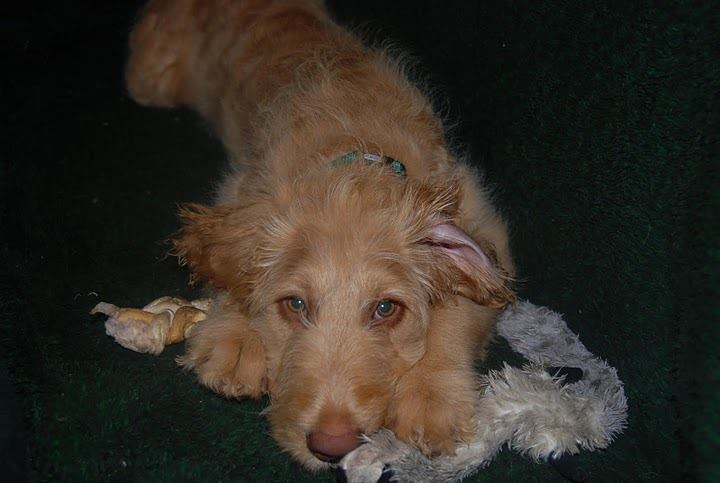 "I didn't even want a dog. But I fell in love with the puppy
that my wife picked out from Karla's Golden Doodle litter. Zeke
has become the light of our lives. He is always happy. Karla
did a great job with the puppies. She even had his litter mates
back for a first birthday party. There were games and a meat
cake. Zeke and his siblings had a wonderful time"
– Peter Arnemann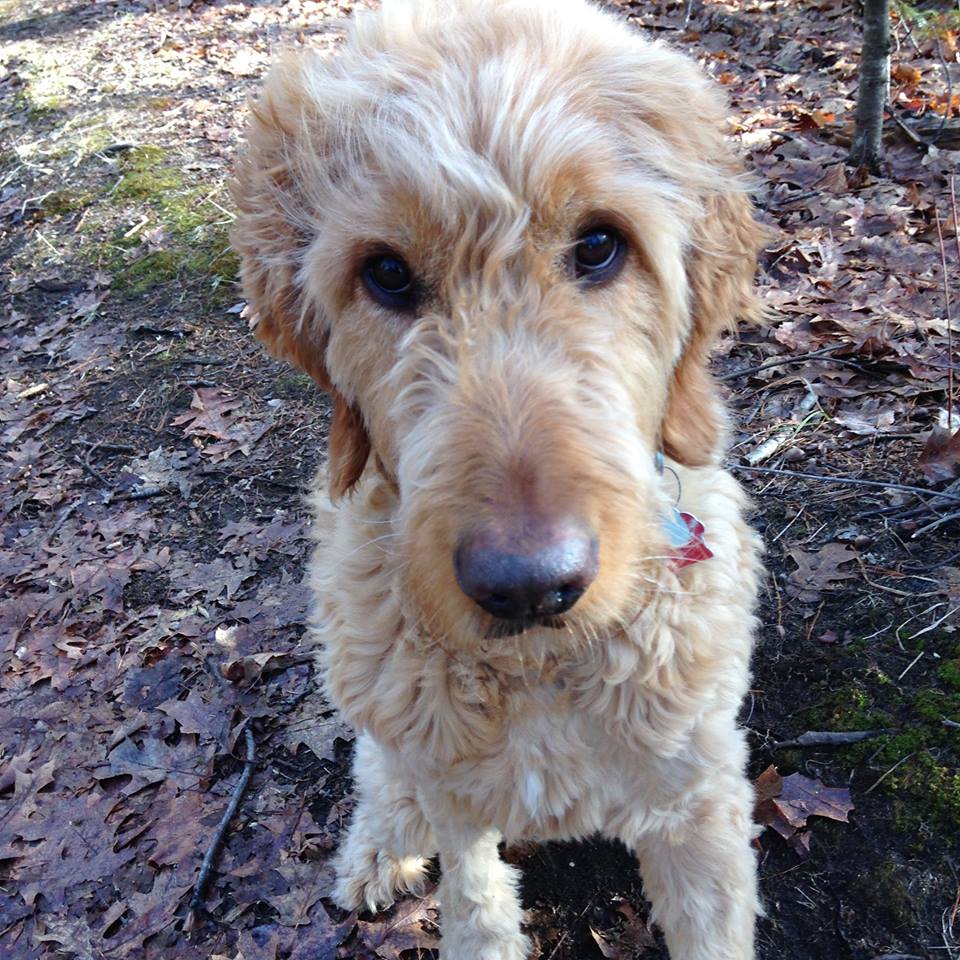 "Okay, indulge me. He's been the most reliable pick me up in the
last hard five years. His moods range from good to better to
best. He looks at me like this about 352 times a day. Thank you
Karla Schwarz, for telling me you thought Purple Boy would be
the right one of Roxy's pups for Dolan and me."
-Mary Pols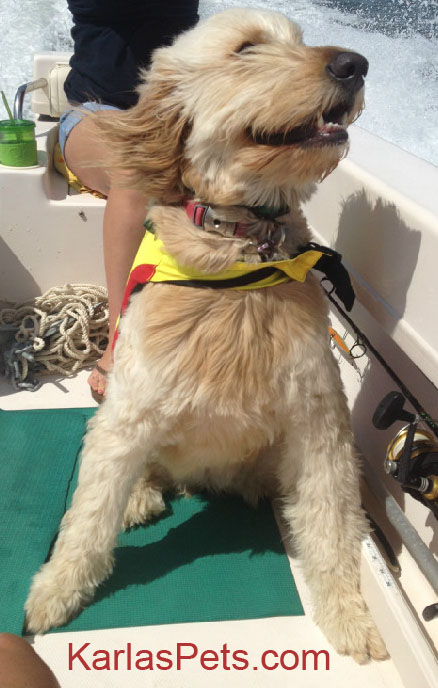 More Happy Customers!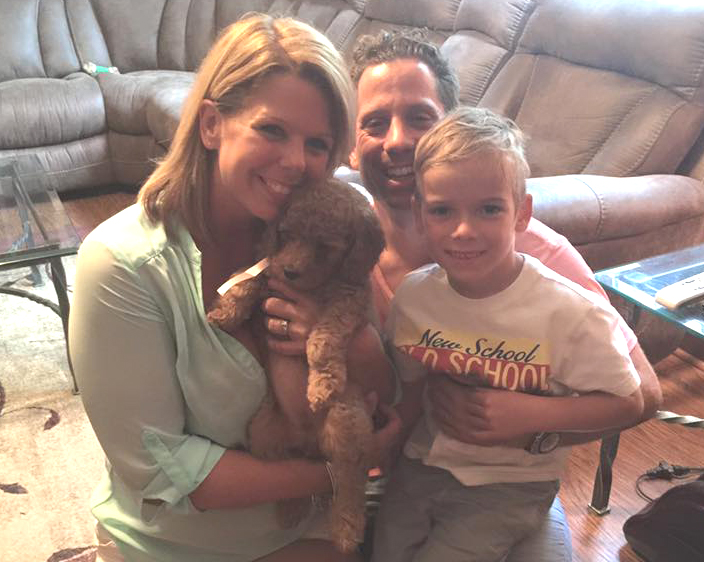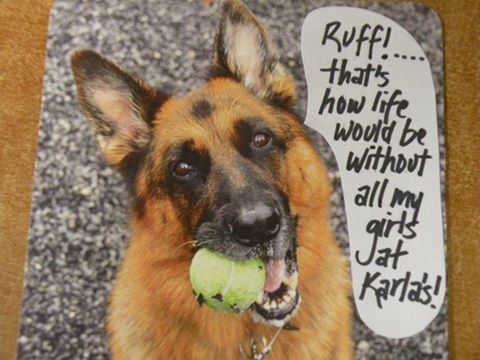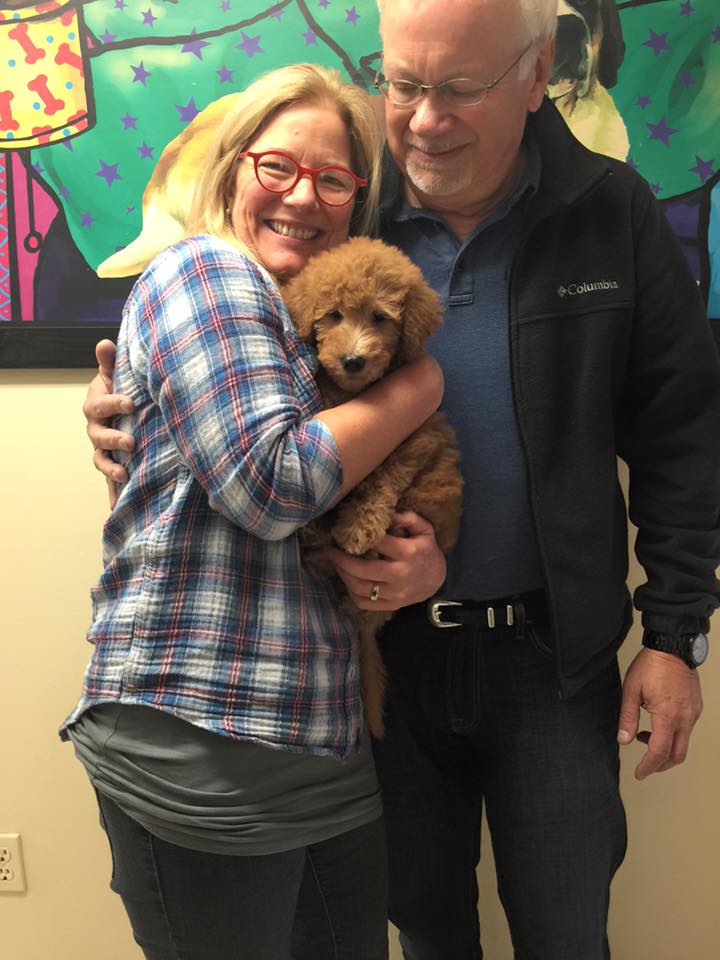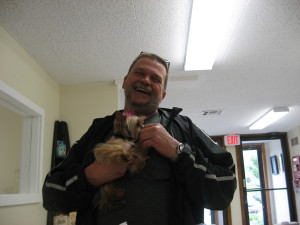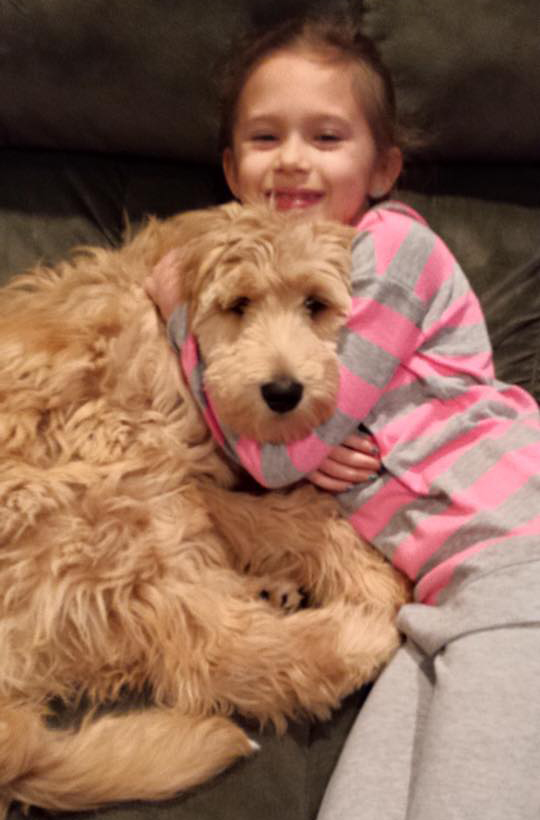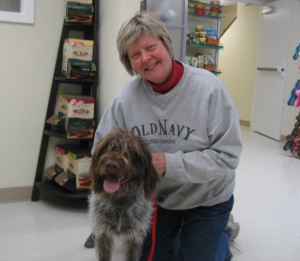 I adopted Sofi from a shelter (pictured above)  in the summer of 2008. I found that she was very frightened of adults, children, and any kind of noise. Every day was a challenge to help this dog to adapt to my home, my other dogs and me. I enrolled her in a basic obedience class, hoping that she would become more confident and less afraid. Although we were interacting with other dogs and their owners, this did nothing to help with her fears.
When Karla's opened, I started taking Sofi to Day Care – at first she went for half a day, and now we have increased Day Care to 2 full days a week. Sofi is a very different girl.
She is so much happier, now that she has her many doggy friends and a staff of very caring people to work with her. Sofi has become very confident and her personality has really developed. She gets very excited when I tell her it is time to go to Karla's and see her buddies!
I am very grateful and happy that there is such a wonderful facility in Mount Washington Valley!
– Carol Bryans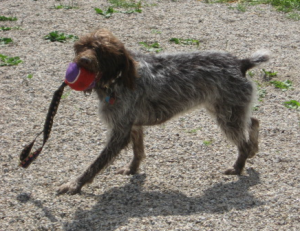 Sofi (pictured above)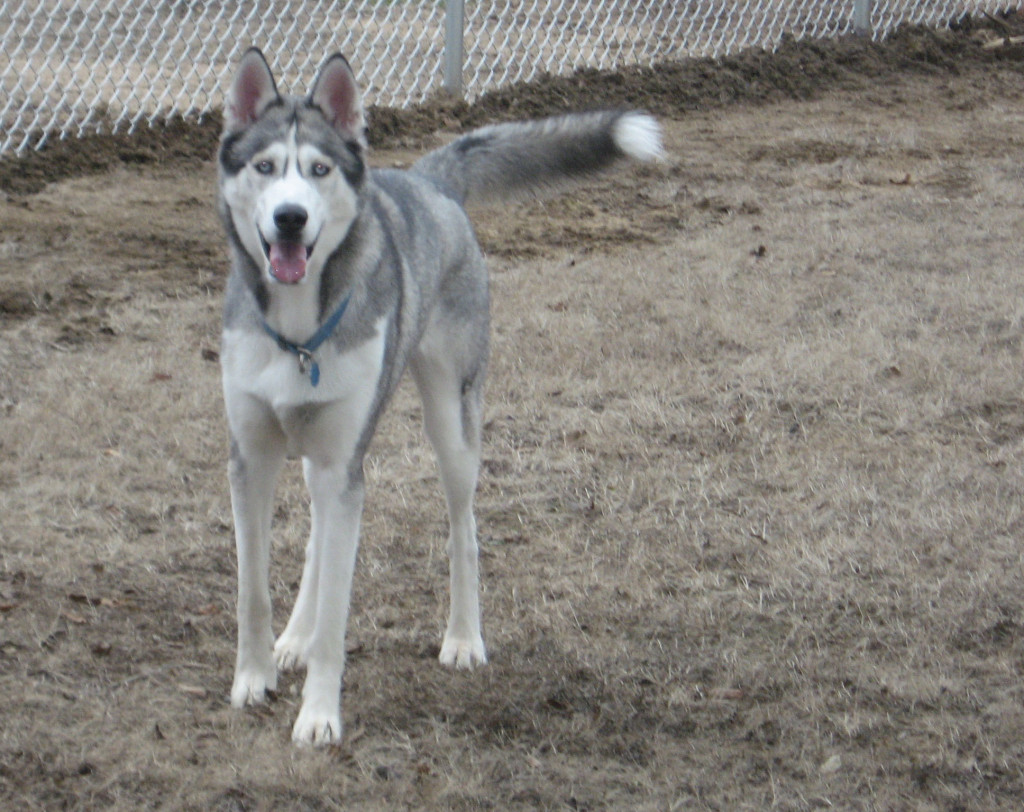 Karla's is great place for Tai (pictured above), he is high-spirited with a LOT of energy. He gets very excited when he knows hes going to see his buddies. He happily greets the staff and can't wait to go out to the yard where he gets to run (he LOVES to run), plays catch, and always has a friend. He goes to Doggie Day Care a few times a week and he burns off all of his energy and very relaxed when he gets home.
Tai isn't a fan of baths, but with his trust of Staff, he's squeaky clean and smells fresh after his baths. The staff are very friendly and very knowledgable. Overall, Tai loves Karla's and so do we, it's always pleasant, we also know he's in great hands, and has a BALL!
 – The Williams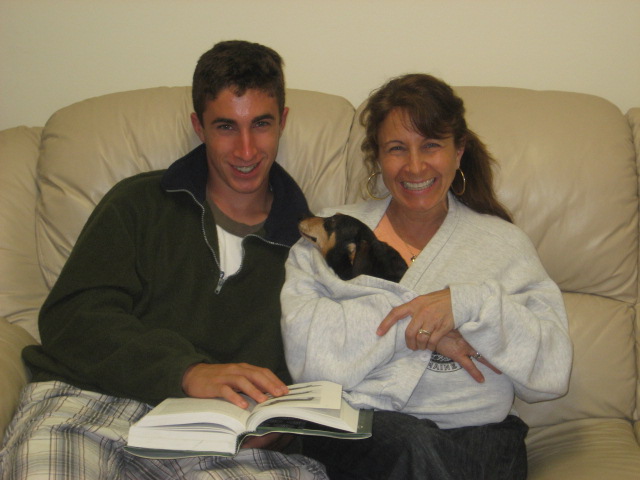 This is the most wonderful, caring, loving, warm and safe place to leave your pet. I left my 15 year old dachshund Katie, who has never been away from us, let alone stayed in a kennel in all her 15 years. She is old and ailing and needed plenty of special care and she received everything plus more at Karla's Pet Rendezvous. I was concerned about her becoming anxious and stressed and instead she THRIVED. Karla and her staff are all exceptional, wonderful animal-loving people! Their love and passion for animals is all so evident. The place is clean, cozy, bright and cheery! I am so grateful for all the love and care they gave my Katie. 10 stars to Karla's place! Also, for an added treat for your pet while your pet is staying at karla's, get a Reiki Treatment by Karen McCarthy from Fryeburg, ME! Katie had one and it made a world of difference.
– Nanci Angelini in Reading, MA
Maple (pictured above) has been an integral part of our family from day one. Even when I was a patient in a nursing facility and our son was in a hospital, we would not consider returning him, as he was so very much a  family member. And now that I am getting better, all thoughts of our returning him have flown out the window. He learns very quickly and is a good doggy. We have been taking him to weekly classes since very shortly after we brought him home. Our trainer is wonderful. I cannot say enough good things about Karla as a breeder. She is everything one looks for in a responsible breeder. She and Wendy her trainer did an excellent job in matching us and this wonderful dog to us.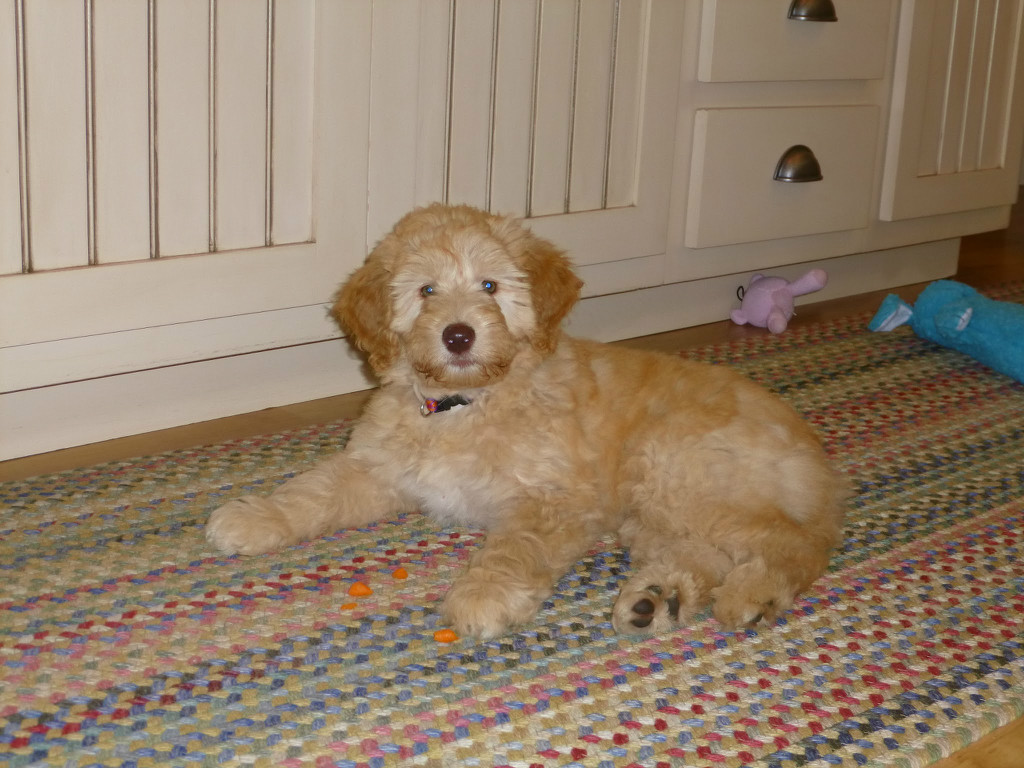 We have a Labradoodle named Dorrie (pictured above) who we obtained from Karla from Angel's litter. She was 8 weeks old when she came to us and is now 13 weeks old at the time this is written. Dorrie is a fantastic puppy and has added a lot of joy into our lives. We can't say enough positive things about Karla and her staff and their genuine desire to get us matched with the right puppy. And after we picked up Dorrie, they have also been extremely helpful in Dorrie's transition period into our home, providing a wealth of information on training and nutritional issues. We had searched and researched a long time to find the right breed and right breeder for our new puppy and don't know how we could have made a better choice.
– Dorrie 2013
Beth and Bob Ball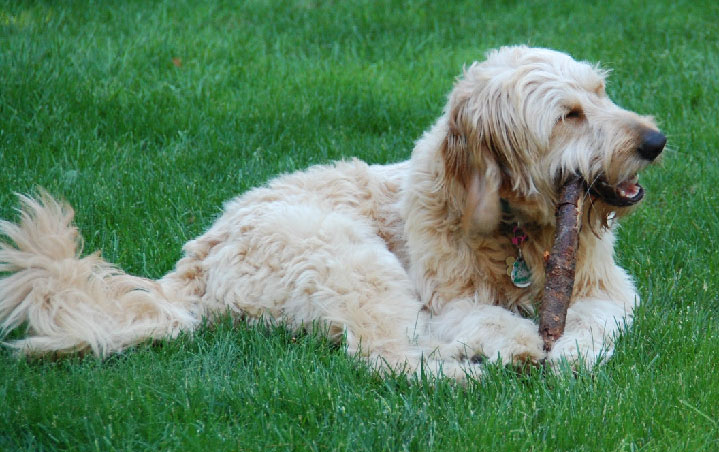 Hi Karla:
Just a quick note and a photo. Bella (pictured above) is such a special part of our family. It is hard to believe we ever lived without her. Loyal, loving, fun and good tempered – we constantly refer to her as "the greatest dog ever". Wanted to thank you again (her litter was born 3-29-2010) and let you know (and see) that she has a pretty good run of things here in Duxbury, Massachusetts.
– The Moody Family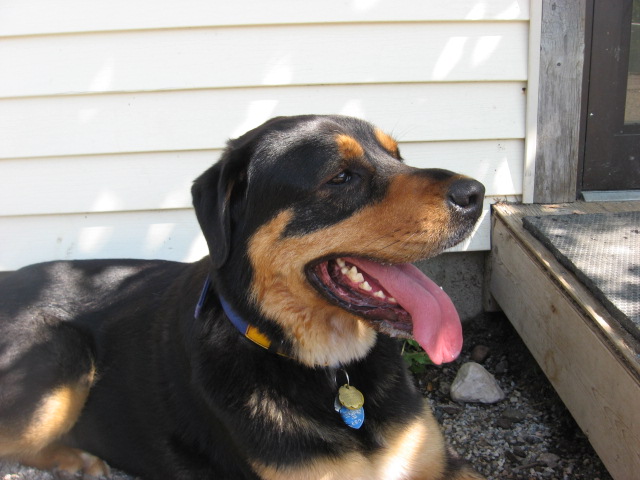 Because of Hobbs' ordeal, we are very discerning when it comes to his care. Karla and her staff offer the very best.Hobbs is considered by every veterinarian who knows his case as a miracle dog. Mass Veterinary Referral Hospital named him Emergency room Patient of the Month-complete with poster-for surviving the worst case of Pyrothax they had encountered. Survival was not optimistic, but drastic measures were taken because he was only 1 1/2 years old. Eight days in ICU, his chest was completely cut open for surgeries and subsequent plasma transfusions, with drainage tubes, antibiotic IV's oxygen, catheter and whatnot inserted inserted everywhere in his body. Hope wasn't given for our big guy for six days.
Hobbs loves to go to and gets all excited when we say, "want to go to Karla's?" We love it because he had become a alittle spoiled and that doesn't work for a 110 lb dog. Through her professional care he has become more socialized, more relaxed and better mannered. I can drive without worrying about him jumping out of the window at every living thing we pass. He is a punch card-playcare "Rendezvous Regular". We have boarded him several times, and he always looks so handsome when he is groomed there. We recommend Karla and the Staff at Karla's Pet Rendezvous to everyone. We have been more than pleased with every service Hobb's has received and with every staff member he has been inviolved with.
Diane & Jim Guthrie
Madison, NH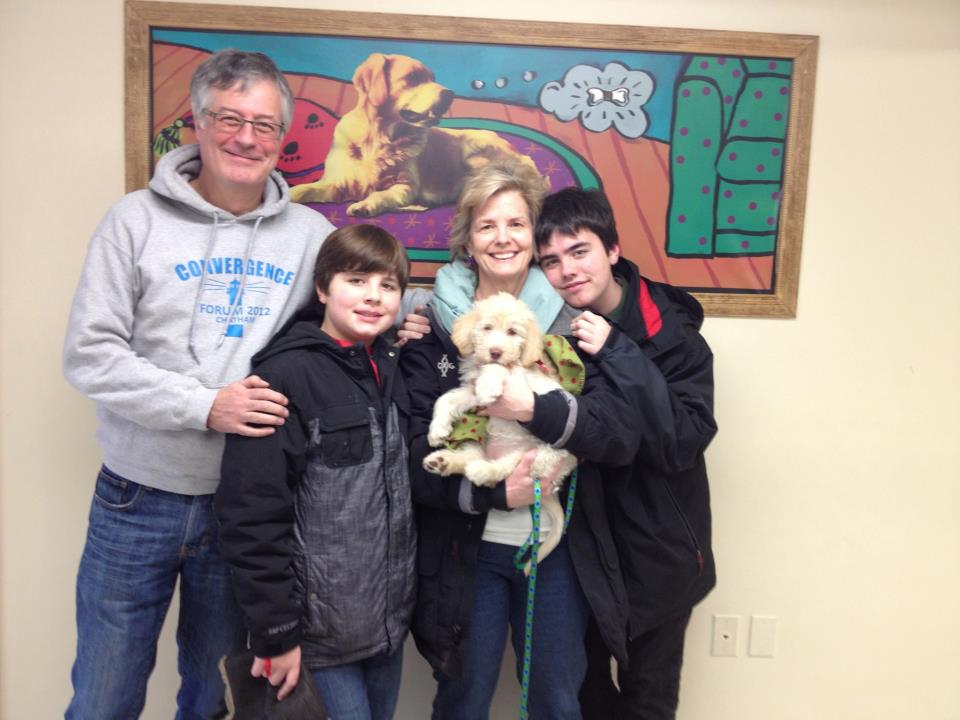 Hollie with her family (pictured above) –  Angel's puppy
We are incredibly pleased with our puppy, Hollie (pictured above), who was born in November, and came home with us in January. The entire process from beginning to now has been fantastic. Obviously, the process isn't the only important part, but Karla made it easy, informative and we always felt supported. The real compliment comes from the results. Hollie is the sweetest puppy I have ever met. She is really intelligent, thinks of herself as my baby, and the kids as her siblings. We have so, so enjoyed her as a part of our lives, and I am so happy that she is now part of it.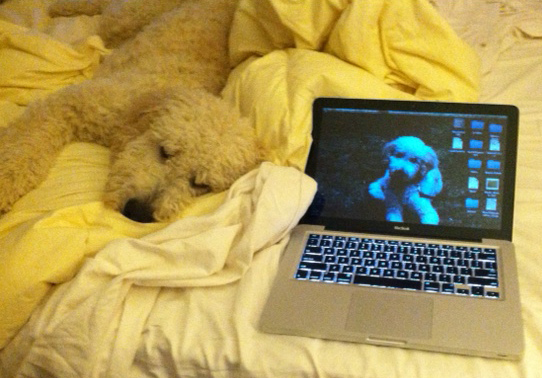 Hi Karla,
Bogie (pictured above) had a blast at your place this weekend. We are so blessed to have found you! Your co-workers are well trained and a pleasure to interact with. I feel so welcomed when I bring Bogie in. And I know Bogie is well cared for. He loves coming in too!
Thanks for everything.

-Best, Jonna
Bogie at Christmas 2011 (Shelby's puppy)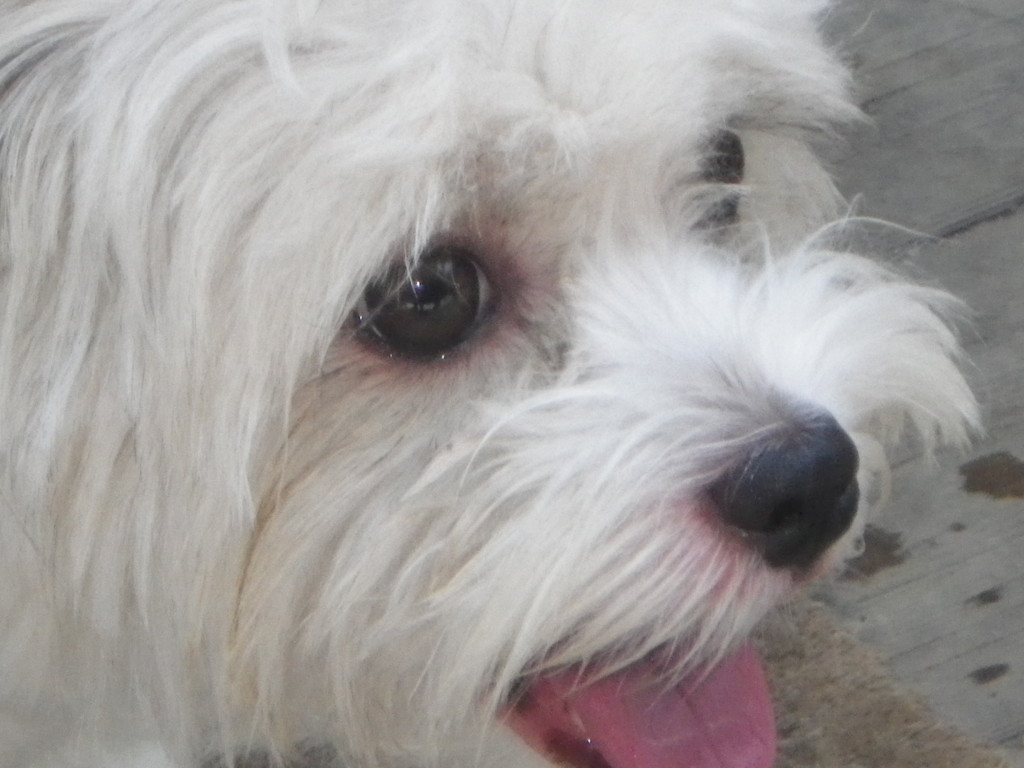 Salon Reviews 

Yesterday I brought my two doggies in for haircuts- I am
relatively new to the area, and have already had a couple
of bad experiences with groomers. To say the least, I was
somewhat apprehensive about bringing them in for a cut.
Wow- when I picked up my doggies they were wagging their
tails and looked great. Further, your Staff helped them
"get in and out" in a speedy manner to minimize their
stress. The last time I brought one of my doggies home
from a cut, he was in shock and would not engage for over
a week- I could not pick him up, touch him, etc.
Yesterday, when I got home, my doggies were happy and
ready for a walk and a hug. I cannot begin to express my
thanks for the incredible job your Staff did and my
appreciation for the care she extended- it meant a great
deal to me. Thank you so very much.
– Cindy
Karla and Staff,
I can't tell you how happy I am with the grooming of Shamus and Clover (not pictured). Of course they looked like a million. Fur so fluffy, soft and shiney. But the detail to their very long nails. No one has ever done such a nice job with length. Just perfect. (the only other time they looked that good on Shamus was when he was under anesthesia) I know he is a nervous guy and it couldn"t have been easy! And their ears! Very nice.
As expected they were glad to be back in their car and leaving but they made sure to let me know they actually had a good time. Everyone was very happy and exhausted. The ride home to Tuftonboro was easy! I think the dynamics of seeing other happy pups has made Karla's an okay place to be for them.
I think as far as Shamus sensitivities to shampoos, I am not expecting any issues.
Thanks for fitting us in on such a short notice. It sure is going to make the rest of the season a lot softer. –
– Marie Campbell

More Testimonials for Karla's Pet Rendezvous !
"I love the encouragement to call and see how your pet is doing
and they always take the time to talk to you as long as you want
and tell you how everything is going. .. this is first time ever
in 11 years my dog has been taken care of someone else than us.
Yes, she's trained them well. Lol . Thank you to an amazing 5
stsr palace for our pets!
– Lynda Kowal" from Facebook

"We highly recommend Karla if you are looking for Doodle babies!
We have one that we named Rollie and he is the sweetest,
smartest and handsome Doodle one could ever get! So much
planning goes into breeding …then so much love and attention
goes into them once born…we are so grateful for all of her
hard work and love … He is an absolute delight and wonderful
addition to our family! "
– Calo Michaud Letendre  from Facebook

"While on a ski vacation in No. Conway, our young dog decided he
didn't want to be alone at the condo we had rented. It was a
"pet friendly" unit, but we were worried his incessant barking
would annoy the neighbors. I took him to KPR for a couple of
days and nights and he was happy as can be (and tired!) when we
picked him up. Would definitely recommend! "
– Lori Butters from Facebook

"Both my dogs have a great time and are given lots of attention
and love. My Boxer can be a handful and he is catered to by the
girls. Mistreatment of pets is absolutely not allowed. I know
this because i now work there part time . Animal safety is a
priority at Karla's."
– Maureen Ferguson from Facebook

"From the minute we dropped off our dog, the people at Karla's
were great. I was very impressed and will be back soon!
– Patrick R." from YELP

"All I can say if my dog wanted to go back in when we were
leaving they must of done a wonderful job in there. The staff
was pleasant and very welcoming as soon a we walked in the door.
At the end they give us a slip with what his progress was during
the stay. They give you rates on how long he can be outside for
2,3,or 4 hours a day and of course the final bath
before we take him. This a definite take back place for my dog
when he is in need of kenneling."
– Elf ego S. from YELP

"What a fabulous place!!! We just self groomed our Beagle and
Springer and it was clean, included all the soaps, conditioner
and combs and dryers! Wish there was one near us at home. No
messy bathroom, sore back and towels full of dog hair! May just
let them play there tomorrow while we go do things."
– Gail C. from YELP

"We took our dog to Karla's during the Christmas break, and we
(and I am sure our dog) loved it!. The facility was just
spotless, and the staff was very attentive and friendly. Red
(our dog) spent the day there playing; he also got a bath. When
we picked him up, he smelled so good! If you are looking for a
place to bring your dog while you hit the slopes or plan on
doing shopping, this is just place. It is about 20 minutes from
most of the hotels in N. Conway, and it is very easy to get to.
When we return to the area, we will definitely bring Red back to
Karla's. Thanks to all (on behalf of Red) for such loving care
and a wonderful day!"
– Ed M. from YELP

"We were seeking to take our kids to storyland in north conway
area and we took our dog here today. Its about 1/2 hour away
from Storyland, so not exactly close, but could be on your way.
This place is great. The people were nice, very dog friendly,
clearly they know what they are doing.They have a small pool for
the dogs on hot days, and while they let the dogs play a lot,
they have a rest time from 12-2. Dont regret the extra drive i
took at all. Complete pros."
– CW. A . from YELP

"Karla's Pet Rendezvous EXCEEDED our expectations. And we have
HIGH expectations. We drove from Boston with our 1 year old Boston Terrier to spend a weekend in N. Conway. We have never left her in a kennel overnight so, this was a first for all of us.
From the minute we walked through the door we felt welcome and
attended to. Vickie welcomed us and made us feel like our dog
would be in good hands.
The check in was very efficient and thorough. All the services
we had signed up for were explained to us and verified.
When we came on Sunday to pick our dog up we got a verbal report
from Laura the staff member who cared for our dog. Laura was
very upbeat and thorough with her report of our dogs stay. It
was all really nice to hear! We also received a written report
of our dog's stay as well as her grooming experience. Which
sounded more like a spa treatment for dogs then a bath! So
wonderful!
Karla's Pet Rendezvous EXCEEDED our expectations. We were very
happy and had one tired pooch on our ride back to Boston. Your
pets are in good hands here. We will return!"
– Kathy S  from YELP

"Our dog *loves* it here! Whenever we want to spend the day
skiing or just dining and shopping in the Mt Washington Valley
we have no qualms in dropping the pup off at Karla's. Big well
supervised yard to run around and socialize in, and Karla and
her entire staff treat all their guests like their own family
pets. Grooming and self-serve dog wash are great, too.
Four paws!"
– Mike B. from YELP

"I've known this owner since she loved Barbie's better than
dogs. All I can say is I wish that I could check into doggie
heaven right now! For the love of your pet, hie thee to this
rendezvous!"
– Vernice D  from YELP


"My 16 year old ailing dachshund stayed at Karla's Pet Rendezvous
for the second time this year while we were on vacation. Last
year was the first time she stayed here and it was the first
time she was ever away from home! I needed to find a special
place for Katie since she was old, ailing and had never been
away from us AND because she is our world. Karla's Pet
Rendezvous was a God send for me! IT was the perfect place for
Katie, who aside from being old and ailing, is very timid and
nervous with strangers. She thrives here every time with Karla
and her extraordinary staff. The love for animals is very
evident at Karla's by all. This place is a 10 STAR place.
Karla will remain very dear to our hearts forever because of the
love, care and life she gave our Katie. This year Katie was
totally immobile and needed 24 hour care. Karla kept Katie with
her at all times and gave her everything she needed and more.
There isn't a better place around or a better person than Karla
and her staff to care for your pet. Your loving pet is
perfectly safe, loved, entertained and cared for here. I could
go on forever, but to sum up how we feel about Karla's is to
quote Dorothy from the Wizard of Oz with my twist – "There's No
Place Like Home" – except Karla's Pet Rendezvous! I would be
happy to speak to anyone about our experience at Karla's. You
will never find a better place for your pet. We love you Karla!"
– Happy customer report from YELP

If Jake  could speak I am sure he would say "Karla's is a great home away from home!" Jake has just spent ten days there and he came home looking wonderful – clean, well groomed and very relaxed. We have taken him there several times in the past year and he is always excited upon his arrival. That is Jake's own testimony.
We see Karla's as very clean, well organized, well staffed and a pleasant place for all. The health watch is thorough. Pets are checked for fleas upon arrival and required to be up to date with all vaccinations. The play and exercise areas are spacious and always well cared for – after Jake digs a few holes they are quickly filled up too.
We are fortunate to have such a fine facility in the Mt. Washington Valley. Have a vacation and be at peace with your pet at Karla's!
– Suzanne and John Felber, Conway