Looking for the best Doodle breeder in New Hampshire, Maine, Connecticut, and Massachusetts? Gotcha!
We are a Quality Doodle Breeder
with a lot of  Positive Customer Reviews
We breed following breeds and are the most experienced Doodle breeder in New Hampshire.
To get a quick look at all of our puppies and some important information please click here
To learn more about who I am and my love of dogs and how I became a breeder, click here:  About Karla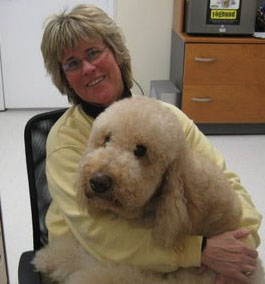 Are you interested in adopting a Doodle or Moyen Poodle Puppy? We are quality breeders of Goldendoodles, Labradoodles, Double doodles, Moyen Poodles and Australian Labradoodles. We have doodle puppies for sale throughout the year.  Are you looking to adopt a beautiful any one of these wonderful dogs?
Click here for our PUPPY APPLICATION PROCESS.
This includes securing your puppy with a deposit.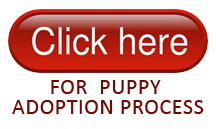 We believe love is a four-legged word!
Check our puppy adoption availability listed on this page: UPCOMING PUPPY LITTERS.
Karla Schwarz has been lovingly caring for animals for over 40 years. As a Pet groomer and owner of a Quality Pet Care Facility, "Animals  are my life!" Her Family-owned and operated breeding side of the business allows her and her daughter Payton to raise these beautiful puppies with their loving hands and their big hearts.
It's very important for our new dog owners to know that our puppies are always born in our bedrooms and raised in our homes with plenty of room to run! None of our dogs will ever live or be raised in a kennel, nor do we allow anyone to adopt our dogs if they cannot include our puppies as part of their own family.
The Importance of  Health
Our Doodle puppies are Volhard Temperament Tested, Vaccinated, Health Guarantee, Parental Health Tested, Visits are always welcome! You will meet our puppy parents as well as us.
When you adopt with us, we offer a 4-hour exit seminar. This includes Nutrition, Parental and Puppy Health, Training Crates, Treats, Toys, Grooming Education and Supplies. When you meet us, you will learn how much we love sharing our knowledge with you! After adoption, we will support you and your puppies and their siblings as they grow up. We support you as a group online by sharing photos, tips and answering all your questions. We do this short-term or long-term; for as long as you need. We look forward to meeting you!
Meet the Dads!

Click the photo below to learn the color, size, weight, 

temperament and traits of all our Puppy Dads! 

Meet the Moms!

Click the photo below to learn the color, size, weight, 

temperament and traits of all our Puppy Moms! 

 

 PUPPIES READY FOR ADOPTION SOON!
We have upcoming litters and only adopt out to the right family. We are looking for families interested in having our puppies be part of their FOREVER HOME. In order to qualify to adopt one of our puppies, we ask that you complete an online application. We always have a waiting list, so we encourage you to apply earlier than later. 
For our online application click here:  


To learn more about our upcoming Puppy Litters, click
on this link:  

If you are interested in a Labradoodle puppy please click the link below for upcoming litters. We look forward to posting and sharing these beautiful new puppies on our website.
For our online application click here:  


To learn more about our upcoming Puppy Litters,
click

this link:

  

About Our Doodles and Moyen Poodles
Thankyou for your interest in my Doodle and Poodle Puppies. We love what we do and continue to serve pets and their families in all capacities. Most of our staff has been in the pet care industry for over 40 years. We want you to value our expertise in pet care, and share and educate you on everything related to how we care for raise our Labradoodle, Goldendoodle and Moyen Poodle puppies. We take exceptional care of these Doodle and Poodle parents. 
We are highly educated in genetics, nutrition, training, and all behavioral aspects of our puppy litters and puppy parents.  We continue to study best temperaments and confirmation for breeding. We are a family owned business, and all of our breeding dogs live with us, or in a guardian home families. At Rendez Doodles, we are very proud that none of our dogs live in a "kennel" environment ever. They are always part of the family, and have lots of free room to run, play and enjoy their lives (more than most!) This is my passion! There is no better or more rewarding work, than caring for these puppies and placing them in a loving safe home.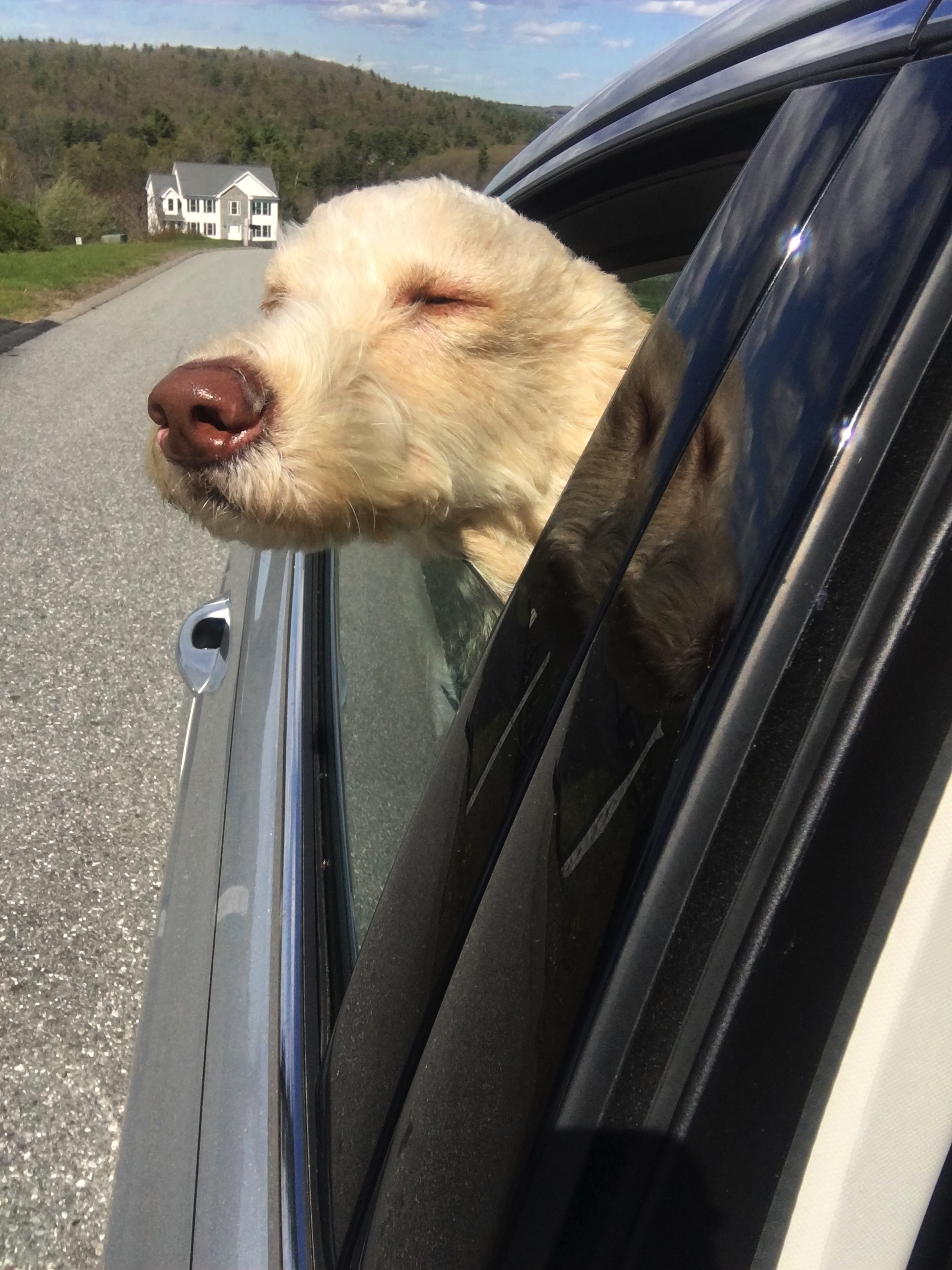 In the video below  are Moyen Poodles. They are no shed hypo-allergenic.
These dog parents are stunning with wonderful temperaments and
have a "sweet as pie" dispositions.  Both dog parents have orthopedic, heart, eye, vWb, SA, thyroid and more DNA testing as needed for proper breed specifications.
Meet Our Dads here: 


Meet our Moms here: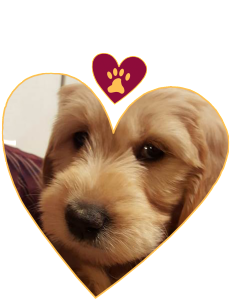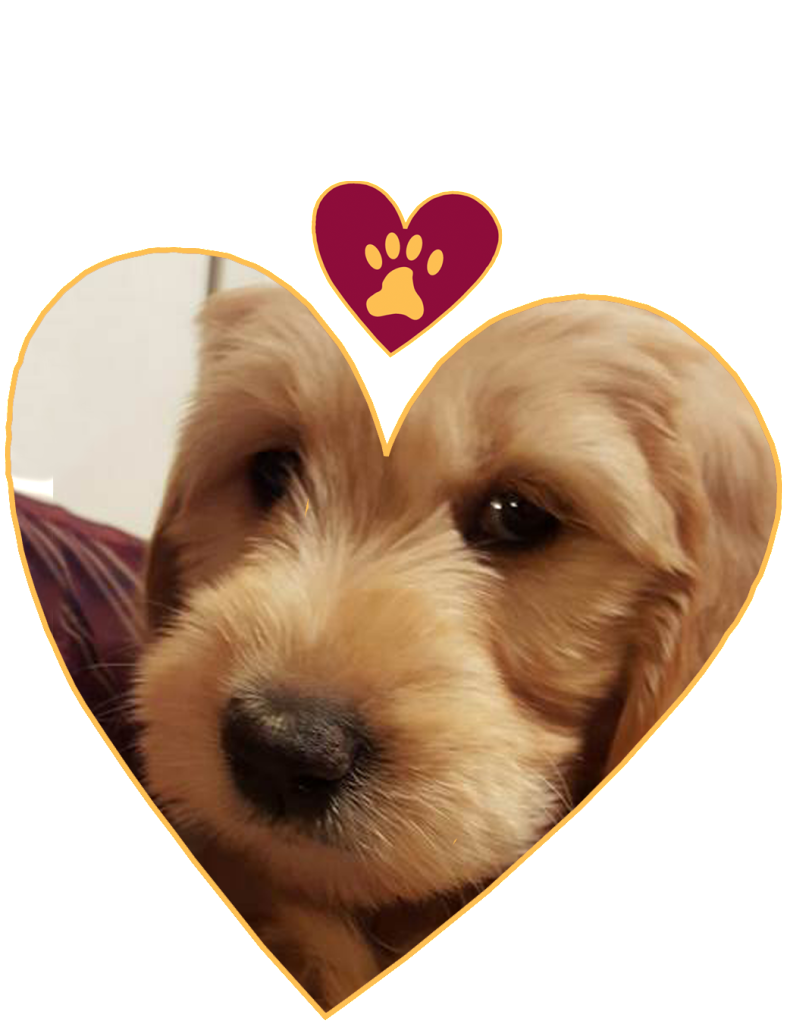 TO LEARN ABOUT OUR ADOPTION PROCESS AND HOW
IT WORKS CLICK THIS LINK: Our Adoption Process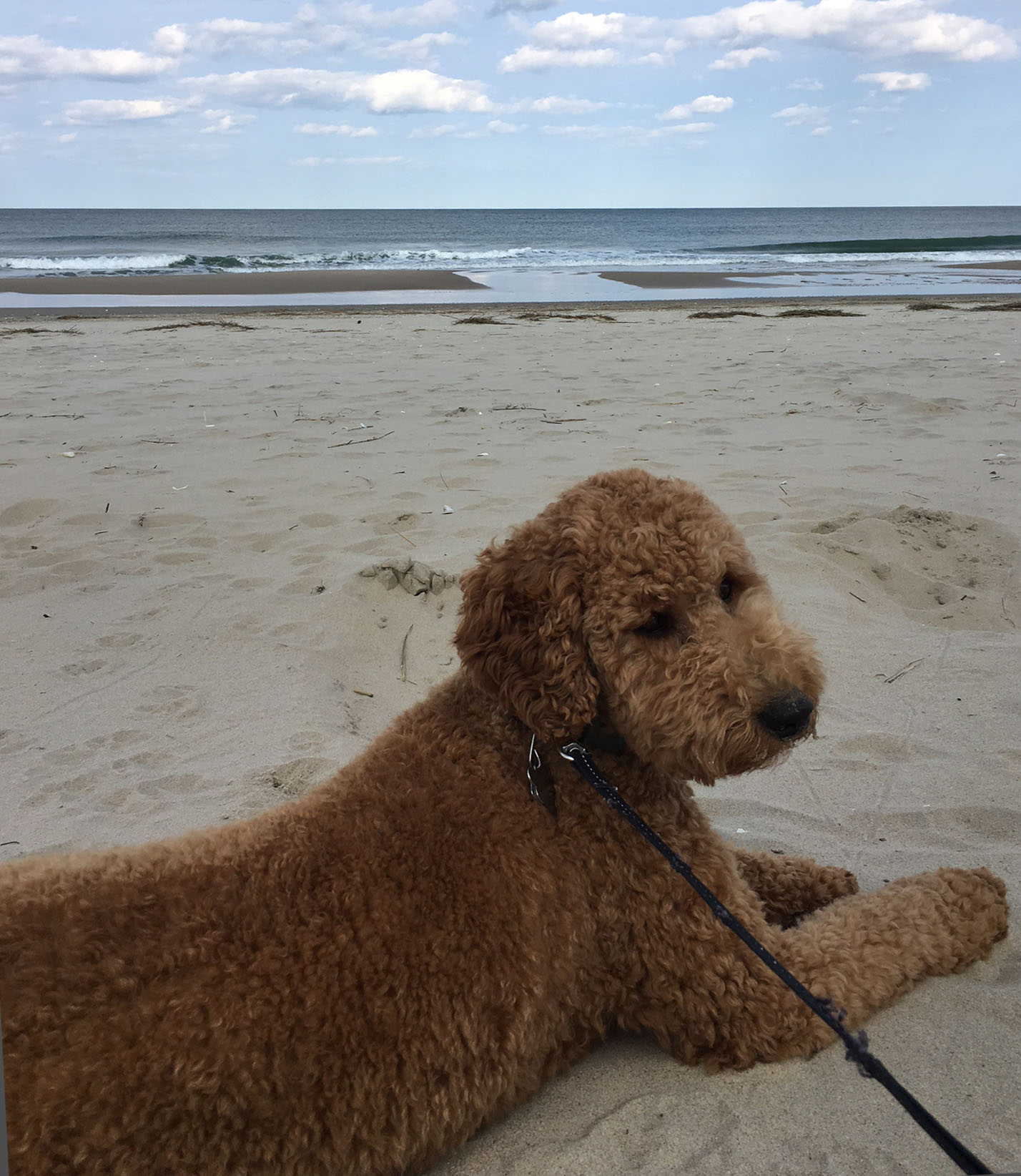 How We Got Started as a Breeder
We breed, several types of hybrids. My first love started with Moyen poodles, and golden retrievers. We started after much research and hard work finally creating a great line of Moyen poodle puppies for sale. There is a stigma that comes along with the poodle breed, therefore many families choose Doodles, instead of poodles, for a smart, loving, low to no shed, family dog.
Over time we learned how to create an incredible line of Goldendoodle puppies. This was not very difficult for me, as I already had great poodles, and knew the best golden retriever breeders nearby (in Maine)
After many requests for Labradoodle puppies, we began researching the Australian Labradoodle background and history. Over time, we were able to use our wonderful poodles and breed them with excellent Labradors, this created another exceptional doodle puppy line (American bred labradoodle puppies). We then began working with Australian labradoodle puppy breeders to create our own line of Australian Labradoodle puppies which we now offer for sale.
Over time, our puppy families soon began requesting Double Doodle puppies. Our new research and knowledge of breeding allowed us to add Double doodle puppies to the list of the breeds of hybrids that are so well known today as being amazing dogs, both for service and/or as family pets.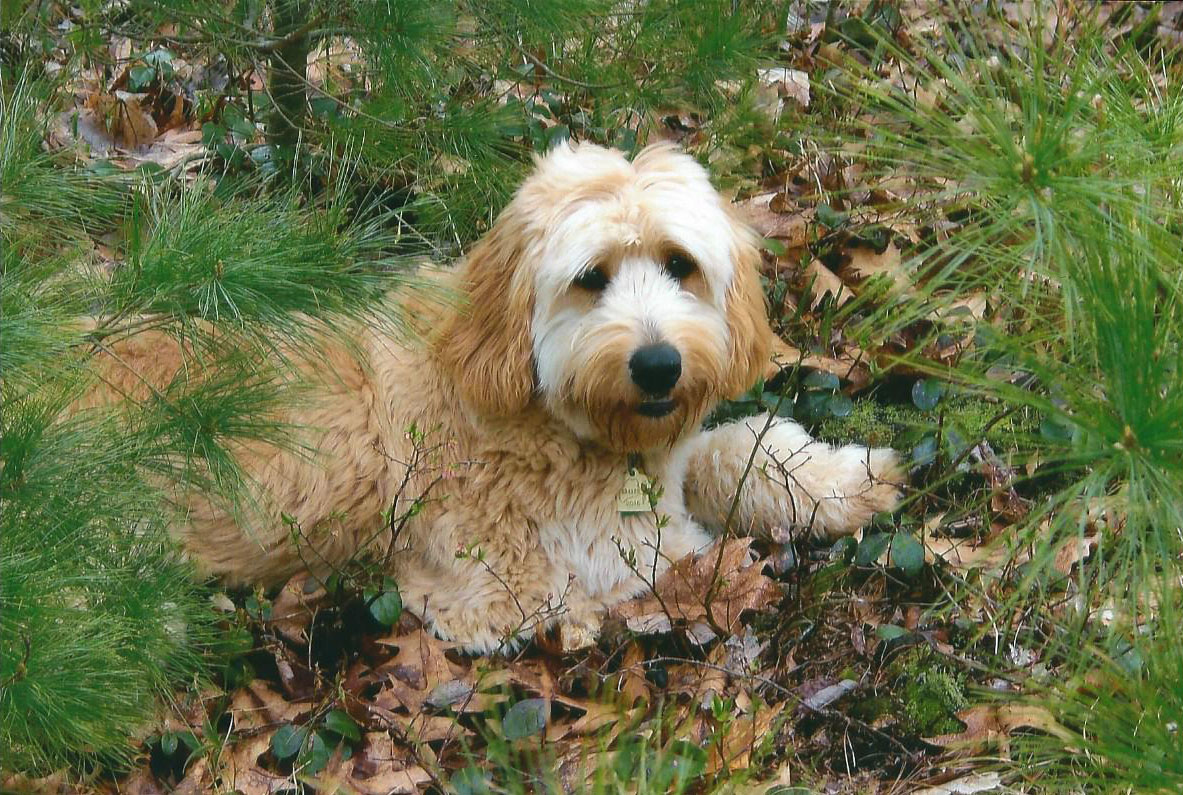 My Moyen poodle puppies, American & Australian labradoodle puppies, goldendoodle puppies, and double doodle puppies are all similar in nature. This result is because they all started with our lovely poodle named Roxy and a couple of wonderful male stud.
These incredible puppies are born and bred in my home, and cared for with "Kindness that comes from the Heart", until they reach your loving open arms. Families with approved applications, (LEARN ABOUT OUR ADOPTION PROCESS HERE) are able to join in the lovely process of adopting a dog with us. We will help you raise your pups with our advice, and for the long term if necessary!
We want all our puppies to find and be in their homes "forever" so it is our goal to educate families, how to understand basic dog training concepts, training cues, and red flags where behavior is concerned. Along with that, we are strong advocates of grooming education, and Nutritional counseling. We have a Trainer on Staff to help you choose the right collar and lead, (for puppy kindergarten) chews for teething, and crate for housebreaking. We will support you with our online support group Forum (coming soon) for as long or as little as you need. You should not worry because we will help you over the "hurdles" that can sometimes cause families to throw up their hands (and unfortunately give up their precious pets).
YOU NEVER WILL SEE ONE OF OUR DOGS given up, unless back to us, no questions asked to rehab and rehome.  We love your dogs and all dogs this much! We  have waiting lists for all of our litters, and can often ship nationally. See our customer reviews and learn what they say about adopting with us.  We are proud to have broken the traditional "mold" where dog breeding is concerned. We work with, and donate to our local animal shelter, and realize that there is a need, and place for all of us. Many of our new puppy families came to us through"word of mouth", from families who owned one of our puppies.
To understand who we are and hear from people like you who were looking for a reputable breeder, we recommend you visit our Doodle Breeders Customer Reviews page. On that page you will hear directly from families who adopted our dogs.They share photos and their stories of the different stages of their puppies development .
The bottom line is we LOVE WHAT WE DO! Caring for Pets, and the People that own them!