DOG TRAINING ~ RENDEZVOUS STYLE!
Educating Both Dogs and Their Owners Leads to Success
In our obedience classes, owners are taught the steps to train their dog themselves with the benefit of a private instructor who focuses solely on their specific handling techniques and their dog's learning style. In group or private classes, each week a new exercise is taught and the previous weeks are reviewed. To achieve optimum results, owners and their dogs are expected to complete all homework assigned by the instructor. We offer wonderful programs for people who have the time and inclination to work with their dogs. At the completion of each course, each dog receives a personalized Diploma. We never deviate from the idea that training is done best when you are consistent and you put a lot of time and effort into it.
Please note: Current vaccines are required.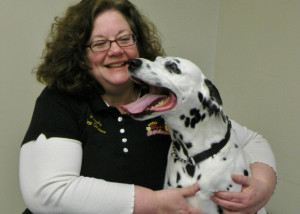 Looking for a certified dog trainer?
Meet WENDY KROPAC, Certified Dog Trainer
I have been a certified AKC Canine Good Citizen evaluator since 2004 and have been a member of the International Association of Canine Professionals (IACP) since 2002. Through the IACP I have attended seminars to continue learning all I can to be a better trainer. As a life long student, I am always looking for new ways to increase my knowledge and am looking forward to the new challenge of working as a trainer at Karla's Pet Rendezvous.
My Background 

I was a dog trainer for Petco from 2003-2011 when I returned to the Mt. Washington Valley. After my apprenticeship was completed in 2002 and I graduated from Animal Behavior and Training Association (ABTA) I was offered a dog training position at Petco. Throughout my career with Petco I trained in their Concord, Manchester, Amherst, Portsmouth and Nashua stores. Manchester was my "home" store and I helped when a trainer was needed in the other locations. I was also a mentor trainer, working with apprentices for the hands on part of their training.
I was a volunteer at the ARL of NH – South in Bedford from December 2001 until September 2011. I worked as an adoption counselor and dog walker from 2001 until 2004. Since 2004, I worked on the Annual Pet Step committee which was their first Pet Step. 

Another volunteer activity for me at the ARL of NH – South was being a mentor trainer for over 30 Animal Behavior College (ABC) students. ABC approached me in 2003 as they needed a mentor trainer in my area. Their program creates a partnership with a local shelter so the ABC students get their hands on training with as many dogs as possible. Many of these students have gone on to own their own businesses or to work full time in the "dog" industry.
My personal dog is a Dalmatian, Jezebel, who is 9 years old and was adopted at the age of 3 from the ARL of NH. I had a second Dalmatian, a 13 year Dalmatian, Buddy, who was born deaf and was trained completely with hand signals. He was the reason I became a dog trainer and was my mentor in the dog training world. 

Jezebel has been a real challenge for me and came into my life at a time when I needed to be reminded of tolerance and patience. She has certainly given me a greater appreciation for my students. She is an enthusiastic dog who loves people and is the direct opposite in personality from Buddy. To give her an outlet for her energy we were part of Canine Capers – Dancing Dogs of NH located in Bedford. I have started working on K9 Dressage as it is more structured and the discipline of learning new activities helps bring down her energy level.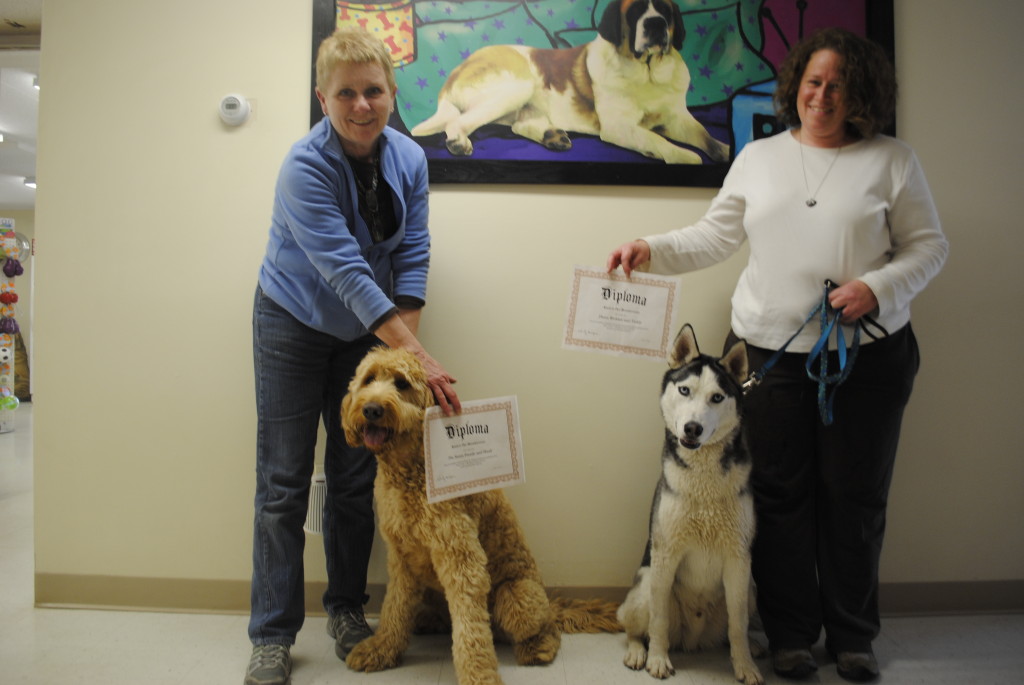 Obedience Classes
Group or Private Lessons for Dogs and Their Owners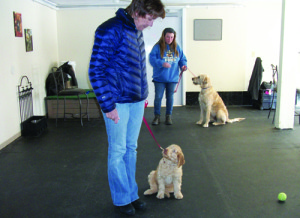 We offer: Private Lessons, Group Lessons and
Training Day Camps
Ask about upcoming classes, and badges that can be earned!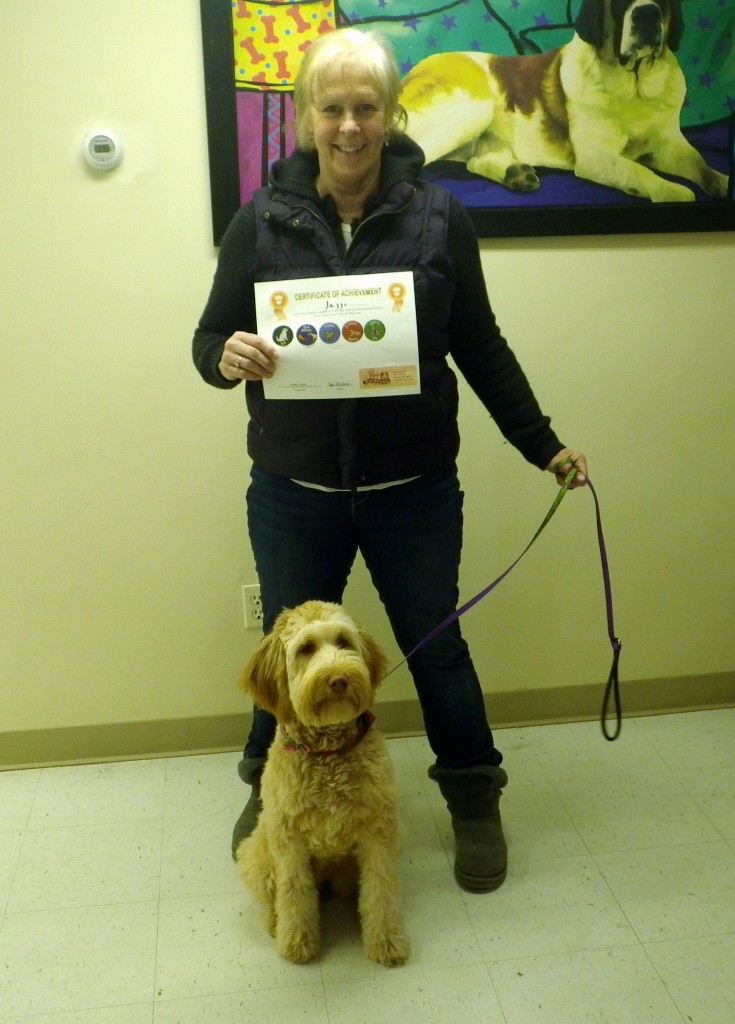 Gaie Mitchell with her dog Jazzi, graduating from Puppy class.
PRIVATE LESSONS ~ DOG OBEDIENCE TRAINING
Rates
We provide 1/2 to 1 hour private dog training lessons with you and your dog. Our lessons are taught on our premises and will address any current issue you are having with your dog.

$45.00 per hour: Private lesson with client & dog
$25.00 per 1/2 hour:Private lesson with client & dog
$20.00 per 1/2 hour: Without owner on premises while boarding, grooming or dog daycare clients.

Boarding & Training Discounted Passes
We help you address current behavior issues
while your dog is boarding with us.
6 – 1/2 hour Lessons…………………………………….. $140.
This is a private lesson with the owner in house at
Karla's Pet Rendezvous.
6 – 1/2 hour Lessons………………………………………$110.
This is a private lesson, without the owner in house,
at Karla's Pet Rendezvous.
1/2 hour Lessons…………………………………………..$20 per 1/2 hour
These lessons are offered without the owner on premise, while
their dog is boarding with us or their dog is being groomed or
staying as a dog daycare client.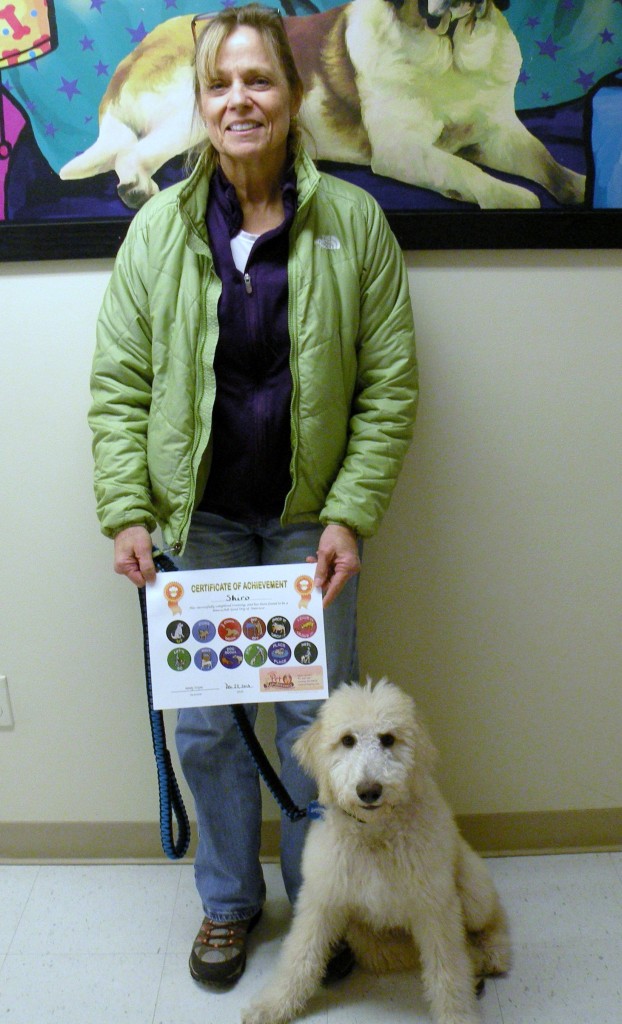 Shilo, one of our graduates.
GROUP LESSONS ~
DOG OBEDIENCE TRAINING
Our class exercises teach you to train your dog to:
• Come when called
• Walk on a leash without pulling
• Sit
• Lie down
• Stay
• Greet guests politely, without jumping up on them
• Have calm, polite behavior and more!
AKC S.T.A.R. Puppy Classes 


This is a six week manners course for puppies who are 10 weeks to one year old. Socialization and manners for puppies. At the completion of this 6 week S.T.A.R. Puppy class, most puppies or adolescents will be socialized to new places, people and things, will come when called, walk on a loose leash, sit, lie down, stay and relax, greet people politely, retrieve and willingly give you objects from their mouths.
6 week course……………………………………………… $120
We specialize in S.T.A.R. puppy training!
AKC Canine Good Citizen (CGC) 


This is a six week manners course.  This group dog training course is for dogs that are over one year old. At the completion of this
6 week AKC Canine Good Citizen class most dogs will have mastered manners and socialization. The goal of this course will allow your dog to be welcome in any public place.
6 week course………………………………………………. $120
Puppy Kindergarten,  First Grade or Second grade 


This is a six week obedience dog training class for puppies up to
5 months old. This is a fun, information packed class for you and your dog. You will learn the fundamentals of dog training. We teach a variety of basic manners and polite behavior.
6 weeks……………………………………………… $120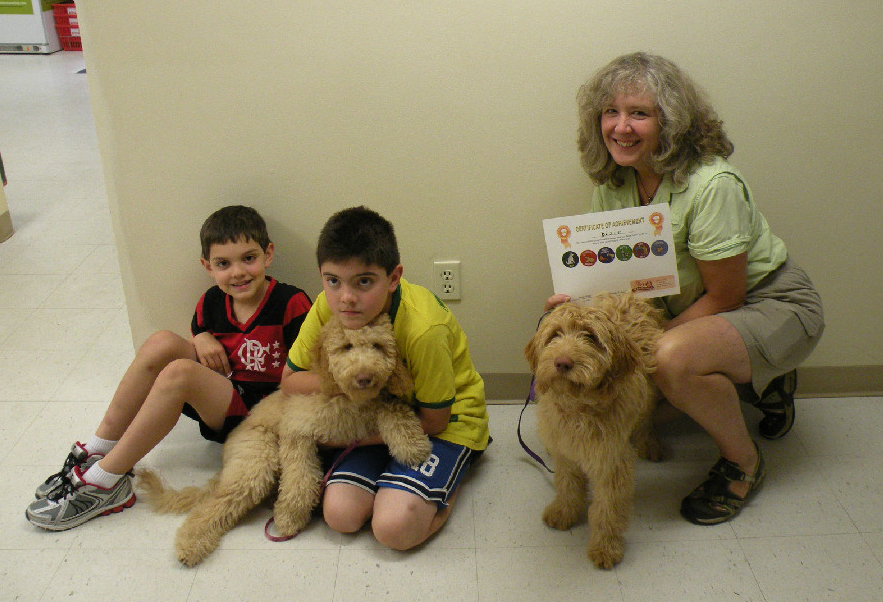 CLASS TRAINING GRADE LEVELS
Basic Grade 1 Obedience Class 

This class is a six week obedience dog training class
for dogs that are 5 months and older.
Your dog will learn:
• Come when called
• Walk on a leash without pulling
• Sit
• Lie down
• Stay, greet guests politely, without jumping up on them
• Calm, polite behavior and more
How to painlessly eliminate undesirable behaviors such as stealing food, how to give things up willingly (drop it), no more jumping on people and more. Most importantly, using positive fun exercises and activities, your dog will enjoy learning as you learn how to communicate with him/her. The result is a cooperative educational partnership that lasts throughout your dog's life.
Advanced Basic Grade 2 Obedience Class


Prerequisite: Basic Grade 1 
This is a six week class. This obedience class is the next level of training for the well behaved dog you have always dreamed of having. This class builds on the foundation of our Basic Grade 1 class, increasing your dog's responsiveness in different environments, adding distractions and duration to those already known behaviors. We strive to meet the needs and desires of our owners/pets. This class structure will guide and coach you in training and perfecting behaviors such as: Learning that "come" means come — no matter what's going on.
Your dog will learn:
• Hand signals
• Perfecting loose leash walking around distractions
• Lots of other new behaviors!
At the conclusion of this class, virtually all our pet owners are fully confident in training their dogs. They now have the degree of control and responsiveness they desire, and are well-prepared to pass the AKC Canine Good Citizen test. Our graduates have developed the skills to teach their dogs anything they
wish to, this is knowledge that lasts throughout your dog's life.
Advanced Basic Grade 3 Obedience Class 

Prerequisite: Basic Grade 2 or CGC
This is a six week class. This course puts to practical use everything you've learned by going to public places to practice. The emphasis is on distractions. It is always more fun to perfect your skills with friends. An opportunity to have fun with your dog and your friends while making sure your dog behaves well in public, with the highest level of distractions. Going for ice cream, a walk in the park or hike in
the woods is always more fun with friends and a well-behaved dog along.
*Ask us how your dog can earn Merit Badges, as they progress and grow in their training! Or click here to learn more about continued training.

TRAINING DAY CAMPS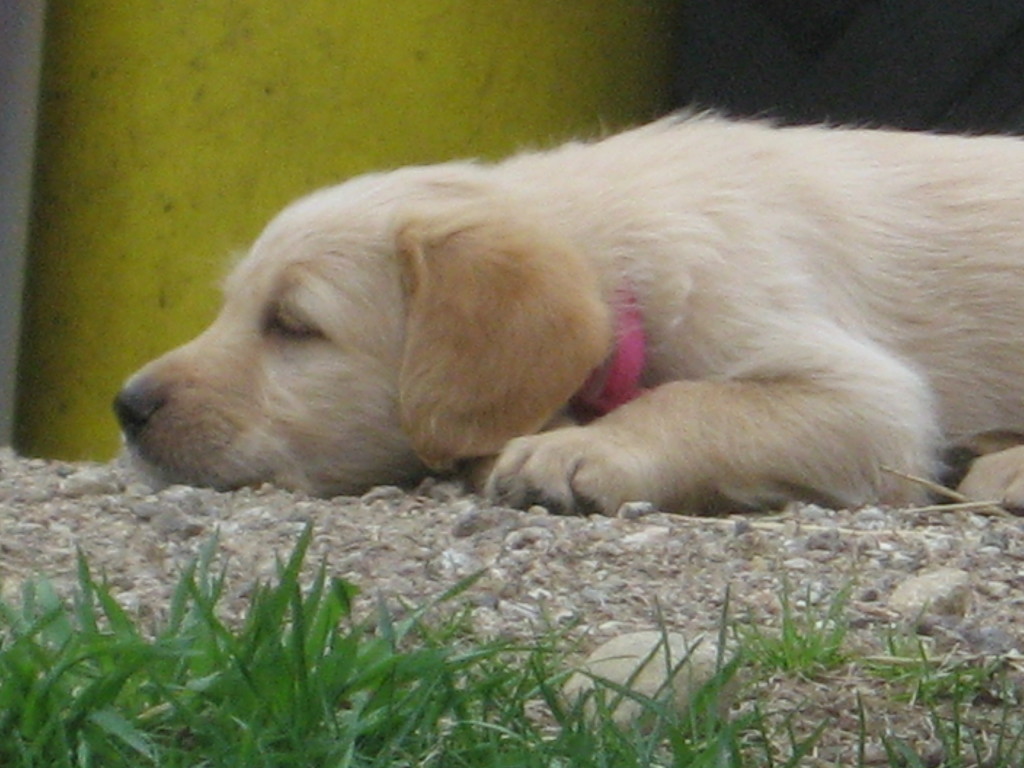 Puppy Training Day Camp (Rendez-Puppy!) 

 $999.
This training camp is for puppies that are 10 weeks old and up to 6 months old. This is a 10 Day Training Day Camp Program. This program covers all the basics, including housebreaking, socialization, manners, and introductory obedience exercises.
Dog Training Day Camp (Rendez-Training) 

 $999.
For dogs over 6 months old. Beginning with a free evaluation, and after acceptance, our program is designed as follows: Day school is 9AM – 4PM (flexible hours also apply) We work with each dog in
30-minute segments four times per day, for five consecutive days per week for two weeks, with weekends off.
What They Learn
They are taught the basics of 'heel, 'sit, 'sit stay,' 'down,' 'down
stay,' and 'come when called.' Dogs are worked on property by a
professional dog trainer and off property with a trainer and their dog owners for two one-hour private sessions, one on the weekend and one when the dog is picked up on day 10. This dedicated training work with each dog provides a very strong foundation in the exercises. Owners MUST continue the practices at home for muscle memory and a lifetime of an obedient pet. Two private lessons and customized training manual are included with the class.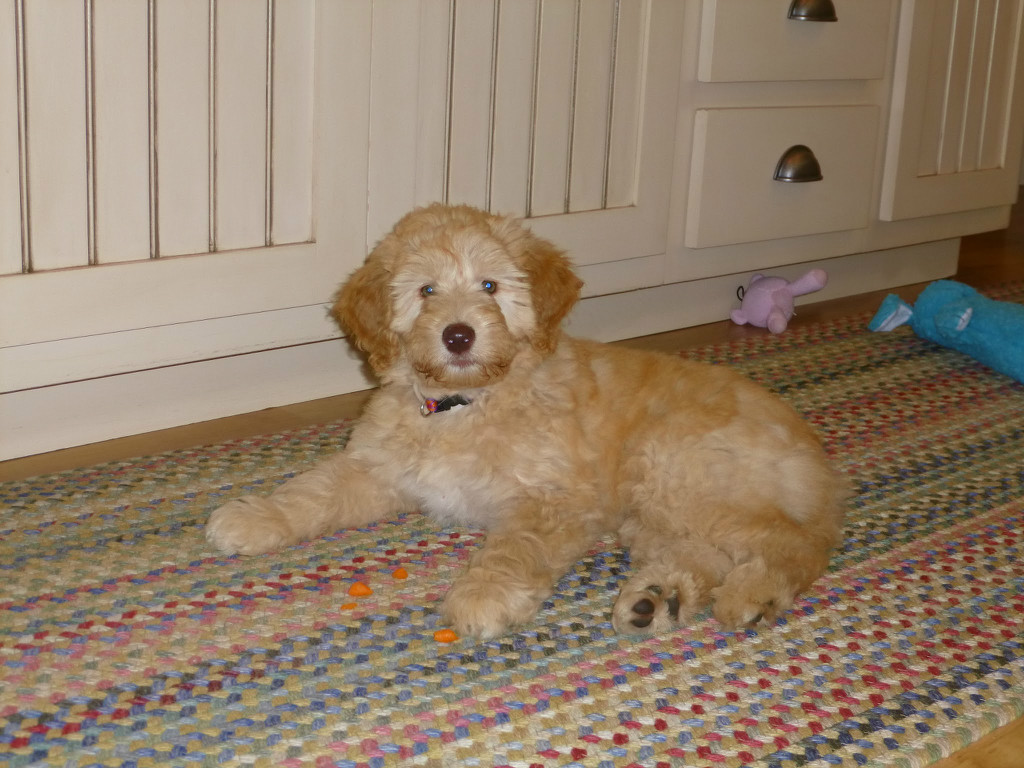 Behavior Modification Program 

 $999.
For dogs over 6 months old. This customized program  focuses on eradicating unwanted behaviors, instilling great leash manners, and teaching your dog to be attentive and responsive through training that's fun, fair and effective. Eliminate frustration and enjoy a closer bond with your dog. Training is focused to meet your individual goals and designed to fit your dog's individual history and temperament.

Here's just a few of our students: