Dog Grooming Salon & Spa – Conway, NH
At Karla's Pet Rendezvous' Grooming Salon & Spa, we are very skilled at offering you the proper haircuts & spa services with kindness that comes from the heart.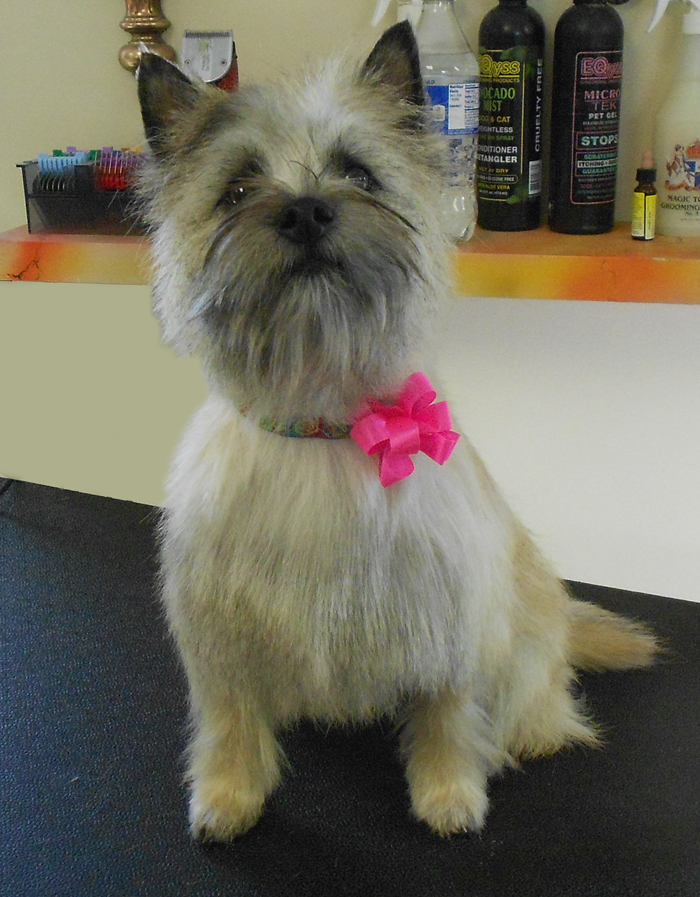 Dog Grooming Salon & Spa. Only the best care for your pet!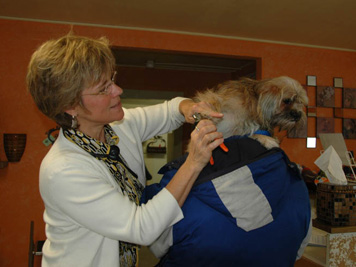 Does your dog need a nail trim?
No problem! Just stop in, open 7 days, no appointment needed for nail trims. Our community commitment to our four legged friends is through our nail clipping proceeds, a portion of every nail clip is donated directly to Conway Area Humane Society.
Choose the package that best fits your pet's needs. We are a full service pet salon. See the Breed Menu below to help you determine the minimum cost.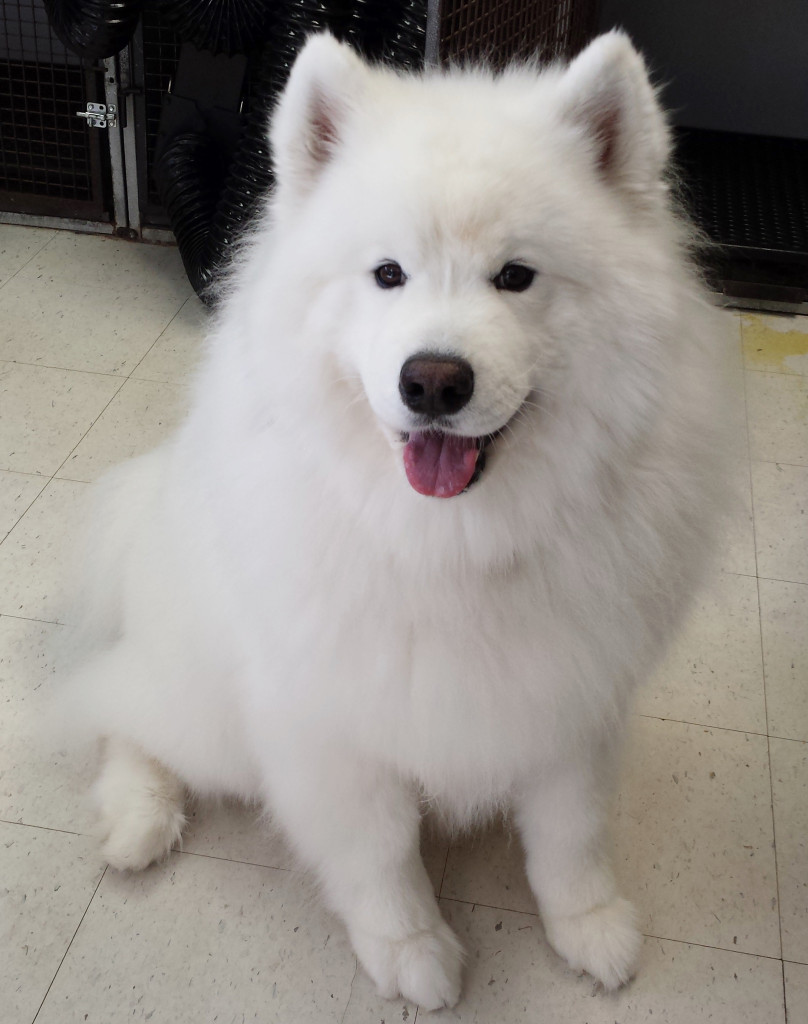 Spa Package (Bath)
Flea & tick check, nail trim, ears cleaned, warm hydro-massage bath, all natural botanical hydrating shampoo, blow & fluff dry, brush out, Scent of the Month & Spa Spritz.
*See Breed Menu below for pricing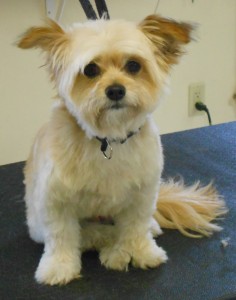 Deluxe Spa Package (Bath & Clip)
Flea & tick check, nail trim, ears cleaned, warm hydro-massage bath, all natural botanical hydrating shampoo, blow & fluff dry, brush out, Scent of the Month, Spa Spritz, plus your pet's desired trim.
*See Breed Menu below for pricing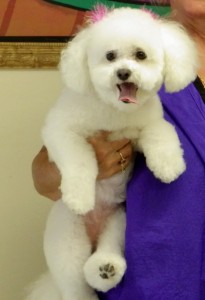 Top Dog Deluxe Package (Add $20)
(Bath and/or Clip + Extras)
Includes flea & tick check, nail trim, ears cleaned, warm hydro-massage bath, all natural botanical hydrating shampoo, blow and fluff dry, brush out, Spa Aromatherapy spritz, Blueberry facial, Fresh Vanilla & Milk thistle foot soak,  Botanical pad balm,
and Tooth brushing!
*See Breed Menu below for pricing.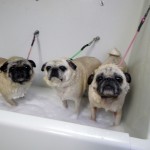 Approximate Breed Specific
Grooming Rates
Rates listed below are base rates for your dog breed. Your price may vary considerably due to the size of your pet, skin and coat condition with each breed of dog or cat. Additional charge for de-matting is estimated at the time of the appointment. Please discuss any of your special needs or concerns with us, we are here for you.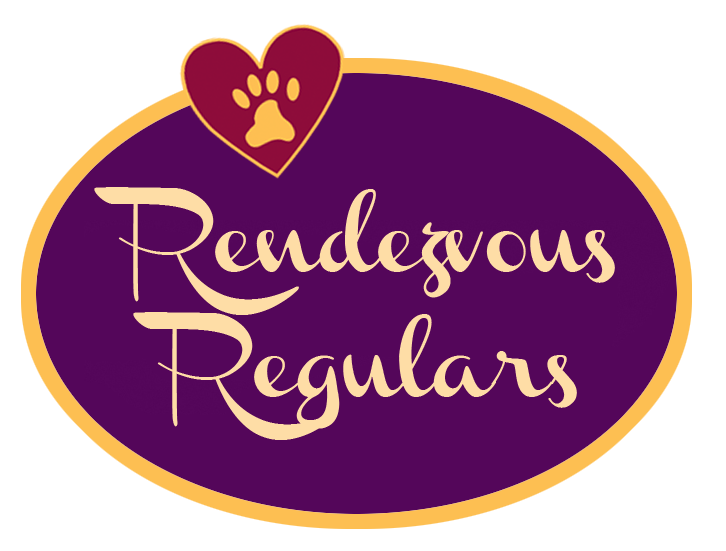 Our standing appointment clients are called "Rendezvous Regulars" They book ongoing appointments in advance and receive  $5.00 off every Pet Salon appointment booked. Click Rendezvous Regulars icon above for details.
When you book an ongoing appointment in advance you receive $5.00 off your future salon appointment (maximum of 3 months apart). There are also many perks that go along with our "Rendezvous Regular" Loyal Pet Salon Clients.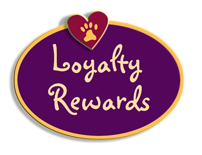 Learn how we reward you for every dollar you spend with us.
For details about our Rewards Program, click the icon above.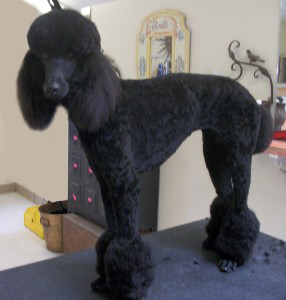 A clean dog is a happy dog! Both you and your dog will feel better when your dog is clean and fluffy year-round.
HOW TO PROPERLY CARE FOR YOUR PET'S COAT 

Owner, Karla Schwarz, (video above) shares brushing tips and the benefits of brushing your dog regularly.
Whether you are starting out with your very first puppy, or have brushed your own dog for many years, here are a few helpful grooming tips to keep your dog healthy and happy.
When you get a new dog it is very important to understand routine grooming needs to be top priority. This is why we like to educate our new puppy owners when they adopt with us for the first time. Regular grooming is a must, for hypo allergenic non-shedding dogs, and a HUGE part of the package to experience a non-shed, or low shed dog. The more you can do at home for yourself for your dog, gives you less of a financial burden. Learning proper coat care is super important. For example, always use a comb after the brush, otherwise your brush can just slide right over matting, serving no purpose.
Start with a good slicker brush & metal comb. The idea is to brush through the entire coat, and then comb through, down to the skin to check your work. You will need a table, at a comfortable height for you, with a rug or nonskid surface to keep your dog from sliding off the table. We suggest that you make grooming a part of your dog's normal routine at home, generally 2-3 times per week.
Keep in mind, there are not many dogs or cats that "like" the process of brushing and combing, in the beginning when you start out. It's something new, and not a fun game. It's not completely comfortable the first several times. Like brushing your children's hair, they don't love it, but they learn to tolerate it as a part of their daily lives. You just want to be sure you are not hurting them throughout the process. In other words, the coat is already in "good" shape when you start, and you continue, until finished, even when they are fussing.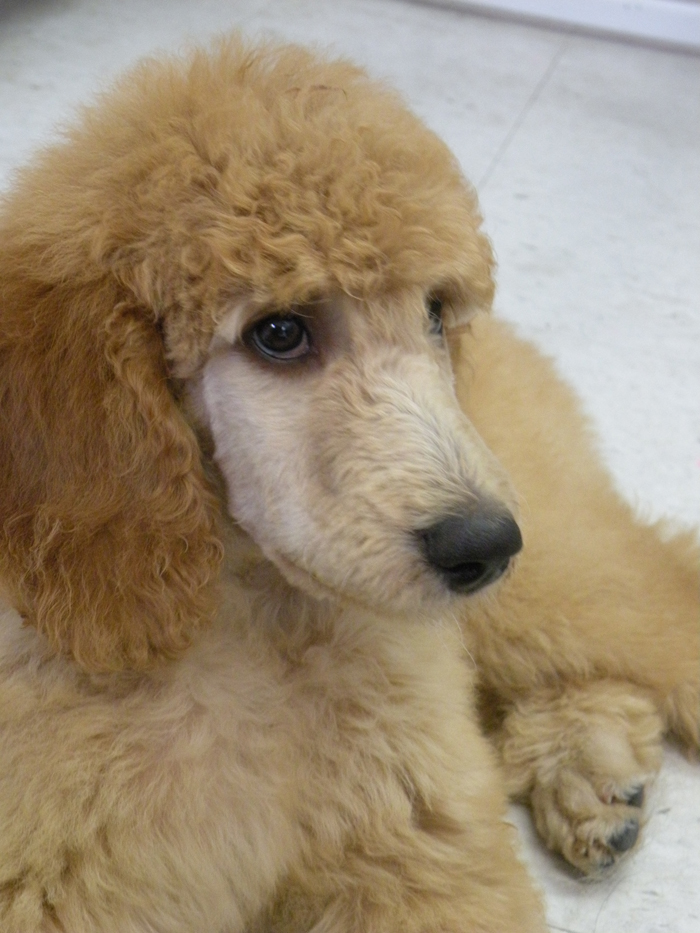 Tia (pictured above)
My new puppy Tia made a "scene" the first two brushings, not because I was hurting her, but because she did not want me to do it. If I had stopped in the middle when she fussed, it would mean she learned that if she whined, fussed or struggled, and I stopped brushing because of it, she would then fight twice as long the next
time I brushed her). Clearly, you don't want that to happen. 

Keep calm and continue to brush your dog, KNOWING that you are not hurting your dog at all. Do this until you are completely finished combing. Once they are down off the table, give them a treat (never during the brushing or while they are still on the table.) If you diligently do this, the next time it will get easier and easier, until it becomes "routine" for your dog. With this method, they have learned that fussing does nothing for them. This lets them resign to the process for the rest of their lives. Please note: YOU CANNOT DO THIS IF YOUR DOG is already matted or has a history of being matted.
For hypoallergenic and no to low shed dogs, here are the steps:
Put your dog on the table, brush entirely through, then COMB through every inch of the dog's body. THE ONLY EXCEPTION TO THIS RULE IS WHEN THE dog IS MATTED. Please be aware,
de-matting or brushing a dog that is already matted HURTS them. This will cause your dog to hate grooming for the rest of
his/her life.
What Causes Matting on a Dog's Coat?
Matting happens when brushing and thorough combing has not been done on a regular basis. At this point, the only thing that can be done is clipping (see Shave Down article below). This requires you to work with a groomer and ask them to go underneath the matting (which means really short ). This will get the matting off with less discomfort to your dog. Yes, they will look terrible, but they will not be hurt with this process (hopefully), and soon you can start brushing again. This brushing needs to be done 2-3 times per week to get used to the brushing process when there is no matting to contend with.
Before you decide to shave down your pet, please understand the repercussions by reading this article. Click this link: 

Shave Down Waiver Contract
The Shave Down Waiver Form form is required for pet owners that are considering having their fur-bearing dog shaved. It is highly recommended that you read the article in the link above before requesting a shave down of a fur-bearing dog.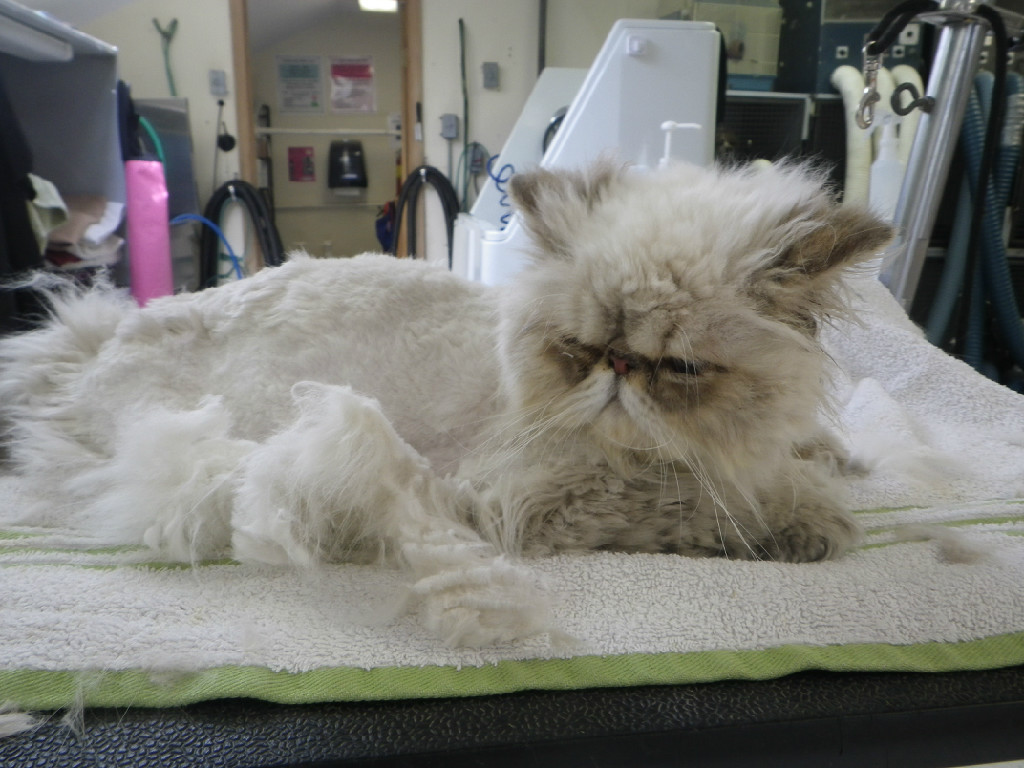 PREVENTATIVE CARE 


The key is to NEVER have matting, this is achieved by being pro-active and brushing your dog often. It's proper maintenance so to speak. With proper maintenance of your dog's coat, it allows you to bring him to the groomer for a trim, not a shave down, every eight weeks or so. The trim will keep your dog's coat length just where you want it.
Dogs look their best and are easily brush-able and maintained when their coat is an inch on their body and two inches on their legs and three inches on their head and tail. If you do this every eight weeks, as well as brush and comb your dog two to three times per week, the result is you will never have a matted dog.
For hypoallergenic and no to low shed dogs:
If you are unable to brush your dog yourself, due to circumstances or lack of time, you must have a groomer brush them out every four weeks. Dogs need a clip every eight weeks, this is the only way to keep your dog's coat healthy, manageable and at a cute length. PERIOD. To save you from heartache, by having to completely shave your dog (a short coat in winter is very cold and unfair on your dog). To avoid this, please make appointments ahead of time, on a standing basis and keep them. DO NOT WAIT UNTIL YOUR DOG IS SEVERELY MATTED AND EXPECT MIRACLES FROM YOUR GROOMER. As I mentioned above, the only way to get mats out hurts. Don't allow a groomer to de-mat your dog, your dog will hate grooming forever!
Some groomers will do this, and actually pull the mats (knotted hair) out by the roots (just to please you, and keep your business).
It is important for you to know that this is inhumane for your dog. It could take hours to do, piece by tiny piece and cost you a fortune.
The other option is to do a very short clip every 3 months, to save money. They do not look good, but you do not have to brush hardly at all, (head and tail) and neither does the groomer. The hair just comes off, your dog is never dealing with de-matting, which is always the ideal. If I can be very clear here, my message is that you NEVER allow matting to occur on your dog, without expecting to have it clipped off. Clipping off all the matting results in a very short (and unattractive) haircut. If you own a shedding dog or any feline, the regular brushing keeps the hair off the floor, and in your brush (where you want it). It also stimulates the skin and hair follicles, causes less dandruff and provides a shinier coat. Good nutrition also plays a very important part in a shiny, healthy coat.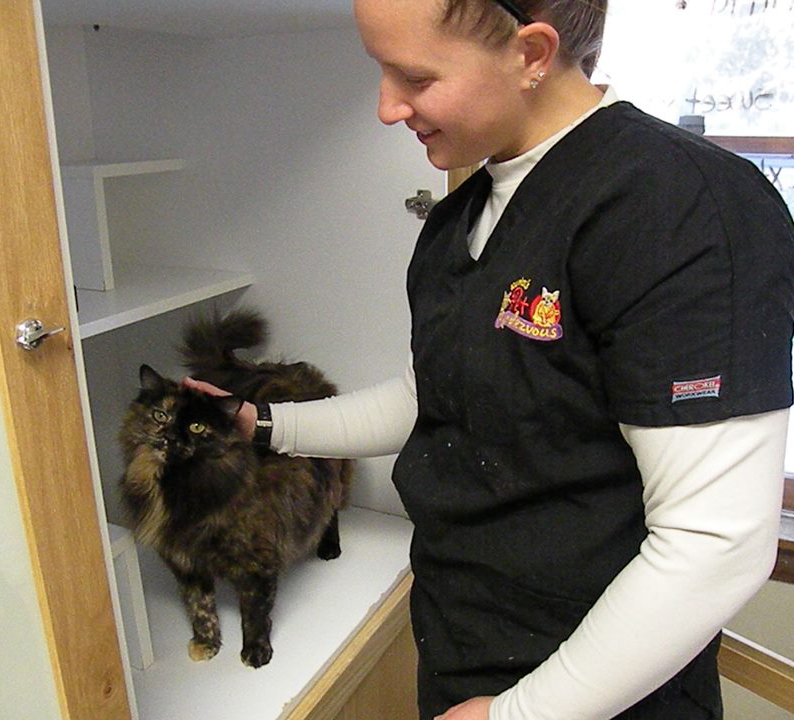 Cats 


Cats prefer not to be clipped, (they hate it actually) and should only be clipped in an extreme severe matted situation.
To learn more about the dog food and nutrition we recommend,
visit our Dog and Puppy Food Nutrients and Supplies page.
Breed Menu (base pricing)* 
Rates listed below are base rates only. Your price will vary
considerably based on the size of your dog,  the skin and coat condition, for each breed of dog or cat. Additional charge for
de-matting is estimated at the time of the appointment. Please discuss any of your special needs or concerns with us, we are here for you. By booking in advance, receive $5.00 off your future salon
appointment (3 months or less). A clean dog is a happy dog!
Both you and your dog will feel better when your dog is clean
and fluffy year-round.

Alaskan Malamute $80+
American Eskimo $55
American Stafford Terrier $45
Australian Shepherd $55
Basenji $45
Basset $50
Beagle $35
Bearded Collie $70
Bedlington Terrier $73
Bernese Mountain Dog $65
Bichon Frise $60
Blood Hound $50
Border Collie $58
Border Terrier $40
Boston Terrier $30
Bouvier des Flandres $90
Boxer $50
Brittany $48
Brussels Griffon $45
Bull Mastiff $60
Bull Terrier $45
Bulldog $45
Cairn Terrier $50
Cavalier King Charles $45
Chesapeake Bay $60
Chihuahua $30
Chinese Char-Pei $45
Chow Chow $80+
Cocker Spaniel Shave $60
Clip $65
Collie $73+
Corgi $48
Dachshund $30
Long Hair $35
Dalmatian $48
Doberman Pinscher $50
English Mastiff $58
English Setter $58
English Springer Spaniel $70
Fox Terrier $45
German Shepard $65
Long Hair $80+
Giant Schnauzer $80
Golden Retriever $60
Tight Trim $73
Goldendoodle (American) $78
Gordon Setter $63
Great Dane $60
Great Pyrenees $80
Greyhound $50
Irish Setter $63
Irish Terrier $35
Jack Russell $33
Long Hair $40
Keeshond $70
Kerryblue Terrier $70
Komonder $80
Labradoodle (American) $73
Labrador Retriever $50
Lhasa Apso $50
Puppy Cut $55
Maltese $48
Manchester Terrier $40
Miniature Pinsche $30
Miniature Schnauzer $53
Newfoundland $100+
Norwegian Elkhound $70
Norwich Terrier $50
Old English Sheepdog $85+
Papillion $40
Pekingese $45
Pointers $48
Pomeranian $45
Poodle, Miniature $55
Poodle, Standard Shave $75
Puppy Cut $80+
Poodle, Toy $50
Portuguese WaterDog $65
Pug $40
Rottweiler $58
Samoyed $80+
Schipperke $40
Scottish Terrier $53
Shetland Sheepdog $60
Shiba Inu $45
Shih Tzu $50
Puppy Cut $53
Siberian Husky $70+
Silky Terrier $43
Soft Coated Wheaten Terrier $63
St. Bernard Smooth $70
Long Hair $80+
Standard Schnauzer $68
Tibetan Terrier $60
Tibetan Spaniel $50
Visla $48
Weimaraner $48
Welsh Terrier $60
West Highland White Terrier $53
Whippet $40
Yorkshire Terrier $43
CATS
Cats Short Hair ……………………. $45
Long Hair ………………………………. $55+
Shave Down…………………………… $65+

Spa & Walk-in Services
We offer 3 Spa Packages, as well as individual services
listed below. Walk-ins are always welcome.
Call for your appointment.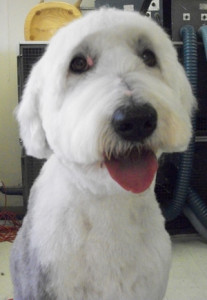 Nail Trim $10 (a portion of proceeds go to the local shelter)
Sanitary Trim $10
Eyes Trim $10
Pad Balm $10
Tooth Brushing $10
Ear Cleaning $10
Foot & Pad Trim $5
Nail Grinding $15
Spa Facial (by appointment) $10
Spa Pawdicure (by appointment) $20
Color Treatment (by appointment) $10+
Fresh Mouth & Breath $10
FURminator D-Shed (10 mins.) $10
Double Trim Saver $15
(Any 2 of our services)
Triple Trim Saver $20
(Any 3 of our services)
Special Treatments*
Express Anal Sacs $10 (with Spa)
Spa Treatments & Flea, Tick & Medicated Bath
Small Dogs and Cats (0-30 lbs) $ 5
Medium Dogs (31-60lbs) $ 8
Large Dogs (61-90lbs) $ 11
Extra Large Dogs (91-uplbs) $ 13
* All special treatments are free for "Rendezvous Regular"
loyalty clients on standing appointments. This means you have your
pet coming to us for grooming on a regular basic every 2, 4, 6, 8, 10,  or up to 12 weeks.

Our Salon Policies
Cancellation: Our Salon policy requires 24 hr notice or $10 fee is applied to credit card for no-shows. Please be courteous and honor your appointment time, or call if you expect to be late.
Pick-up Policy: We're happy to provide daycare services if you are unable to pick up when your pet is finished. (hourly and half-day rates available) In order not to crate your pet for extended periods of time, please be available to pick up your pet when they are finished in the Salon (we'll call you).
Late Pick-up Policy: We understand circumstances beyond your control. For those who are consistently late we charge $1.00 per minute late pick up fees (up to 15 min), after that your pet will be boarded at standard rates.
Our Salon staff will pamper your pet
Our staff boasts over 50 combined years of styling
experience, backed up by on-going training by
New England Pet Grooming Professionals.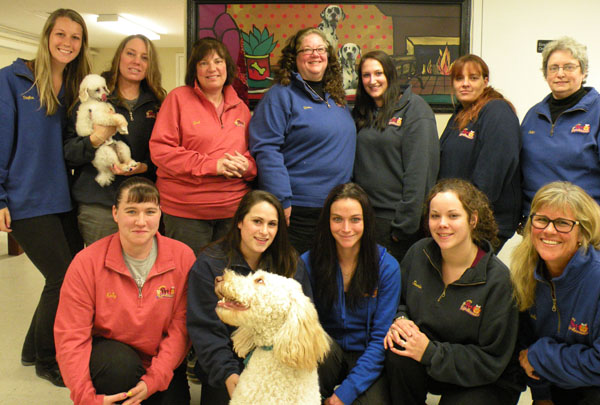 Gail Preble & Kelly  (pictured above) in our peach uniforms
Our Stylists, Gail & Kelly
Gail Preble, our Salon Manager started her career with Karla over 25 years ago, when our location was in Center Conway. "My career with pets started at the tender age of 14 when
I began my summers working at what is now known as Harvest Hills Animal Shelter. I did cleaning, feeding and pony maintenance, as well as assisted with animal control.
When I was in high school I worked closely with a Collie breeder/show person. This is when my passion began for grooming and showing dogs. After high school, I gained lots of experience, both in business ownership which included managing a boarding, training and grooming facility. I also worked at a veterinary hospital for 8 years. I missed working with the public and their pets. I returned to my first love, which is as a dog stylist at Karla's."
Kelly bio's coming soon. We are very pleased to have Kelly on board. Kelly is an excellent Stylist with great credentials and love for animals. Having been a grooming instructor in the past we can really appreciate her dedicated skills and knowledge being put to great use at KRP.